Board of Trustees Chair, Susan Hoblit warmly welcomed parents and friends of the graduates.

Lincoln College's 22nd President, Dr. David M. Gerlach proudly greeted all and moved on to give recognition to the college board of trustees and to teaching faculty.

A number of trustees and trustee emeriti were present and recognized on stage.

Graduation is a satisfying day for teachers too.
Following an opening prayer by Rev. Laurie Hill, President Gerlach introduced student speaker Brighton Robbins.
Robbins graduated Summa Cum Laude with a Bachelor's of Science in Criminal Justice.

Robbins held the distinct honor of being chosen as a Lincoln Academy Student Laureate representing Lincoln College. She was a member of Phi Theta Kappa honor society, an NJCAA Academic All American for two years in volleyball and in softball, a student mentor and worked in the financial aid office.
She was raised in Lincoln and is the daughter of Mike and Theresa Robbins.
Robbins began by thanking the college faculty, staff, coaches and administration for the memories that all students take forward.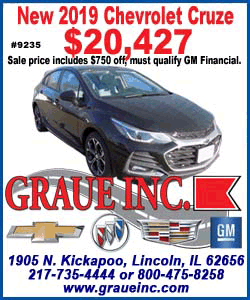 She said that despite growing up in Lincoln, she did not know a lot about Lincoln College, but after her first visit to the campus decided to do both her associates and bachelor degrees at LC.

Sounding a bit surprised by her decision to attend Lincoln College, she said, "Life is funny, sometimes the best option for you is sitting right under your nose." She said it was on her first visit that she fell in love with the campus, faculty and staff at the college.

During her time on campus Robbins said she learned not only from classes, but from friends, classmates, faculty and staff, all of who taught her much in academia and in life. And, an intro to criminal justice class led her to know her career path in life.
On this day, Lincoln College President Gerlach would also confer two special individuals, John Blackburn and Lawrence Thomas, with honorary doctorates.

President Gerlach said, "In recognition of its name and charged status as a university, Lincoln College awards honorary degrees to individuals whose accomplishments and character might have been admired by Mr. Lincoln himself.

Details of these two honorees and their speeches are listed separate below this article.

As an interlude, the Lincoln College Chorale with Peter Miller on music, Brian Kolosvary and Kyle Plohr as soloists, performed Homeward Bound; which was followed by a rousing rendition of 'Oh Happy Day" performed by LC Gospel Choir and Quentin Brackenridge.

Lincoln College Chorale and Quentin Brackenridge performance "Oh happy day!" brought the crowd alive with some youngsters dancing in the isles and all others tapping and swaying with joy.
The main event followed, when degrees were conferred on students.

Following singing the Lincoln College Alma Mater, Reverend Laurie Hill closed with prayer for the graduates and their families.

[Jan Youngquist]