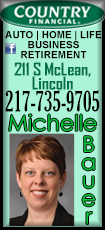 The event held at the Emden Community House packed the hall with much gaiety and many happy voices.

This year there was a special surprise for one member. Mrs. Ruby Harmsen, Class of 1939, was recognized as she celebrated her 80th class anniversary and it was also her 80th consecutive year that she attended the banquet.

Mrs. Harmsen, having not missed the banquet in all 80 years since graduating, was nominated (one of three) and won for the Wall of Fame in the category of Distinguished Alumnus.

Mrs. Harmsen's daughter, Susan Turner, who lives in a small town near Alton now, was also present for the award presentation.



Left to right: Susan Turner - Class of 67, Mrs. Ruby Harmsen - Class of 1939 and Debbie Wagner - Class of 73, visit a bit.

Mrs. Harmsen had been a life-long resident of the area before moving a few miles north to a Hopedale assisted living residence.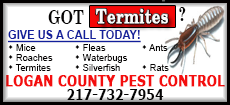 Not to be outdone in the longevity category, Boise Krusemark, also made his mark at the event. He was the oldest alumnus present... by one day!

Mr. Krusemark is not only a Hartem grad, but is also a retired Hartem Industrial Arts teacher.

Others recognized for perfect attendance:
Ron Spencer - 30 Years
Jillyn Thornton - 11 years
Zack Phillips - two years



Left to right: Alumni Treasurer and School Board President Greg Phillips, 2019 Alumni Scholarship winners Abbey Hoerbert and Hunter Buck, Alumni President Ron Spencer. Hoerbert and Buck were selected by the Hartem faculty.

Each of the round tables held a large wooden number center piece that represented the number of decades since graduating. The room was packed with past grads including a table for the 2019 grads.

The years were staggered for a solid mix from one end of the hall to the other.

Invitations for this year's event were sent out to five-year anniversary classes, those who attended last year and alumni signed up on the forever mailing list.

Anniversary classes being honored this year included: 1939, 1944, 1949, 1954, 1959, 1964, 1969, 1974, 1979, 1984, 1989, 1994, 1999, 2004, 2009, 2014 and the Senior Class of 2019.

The 2019 Alumni Association retiring officers were President Ron Spencer ('89), Vice-President Ginny Sparks Smith ('00), Treasurer Greg Phillips ('89), Corresponding Secretaries Carole Metz Knipp ('62), Cheryl Rademaker Renfrow ('62) and Jim Scales ('62); Recording Secretary Jillyn Cross Thorton ('08).

During new business portion of the evening the 2020 officers were elected: President Ginny Sparks, VP Ron Spencer, Corresponding Secretaries Carole Knipp and TBD, Recording Secretary Amy Leesman, Treasurer Greg Phillips.
Also acknowledged during the evening:

Hartsburg Emden High School administrators Superintendent Terry Wisniewski and Principal Jon Leslie.

Faculty Matt Stoltzenburg, Hannah Blackwell, Nichole Folkman, Kenyon Jodlowski, Amanda Feltes, Robert Ham, John Robinson, Abigail Malaga, May Brooks, Laura Simonton, Maria Conn and Tony Ziemba.

Hartsburg Emden School Board members: President Greg Phillips '89, Vice President Kent Cross '96, Secretary Dirk Aper '96, Lawrence Groth, Tammy Zinser, Mark Craig and Lisa Miller.

Members of the Class of 2019 included Brody Baker, Alexis Barry, Hunter Buck, Justin Cannon, Isabella Classen, Alex Eads, Madison Farris, Anna Hayes, Austin Hayes, Abbigail Hoerbert, Allyxandrea Langley, Ivy Merz, Samantha Perry, Sierra Smith, Hayden Vetter and Dawson Watt.

The Class of 2019 were seated in the far front corner next to the table sporting the two largest numbers, 70 and 80, that was set aside for graduates from 1930 to 1949.



The inaugural event for these young H-E alums, they sat laughing amicably and talking easily at their Class of 2019 table.

The count for these alums has now begun. Who and how many from this table might be getting recognition for 80 consecutive years attendance in 2099, or for more years going into the 2100s?

[Jan Youngquist]
More shots at the banquet