Send a link to a friend Share
February, 2015
---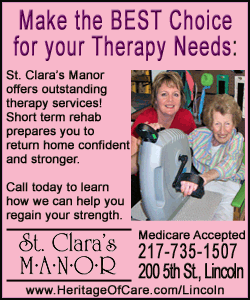 Thursday, Feb. 26
Drive-thru spaghetti meal fundraiser
HOSTED BY: Christian Child Care
WHO: Public
DETAILS: Spaghetti Dinner includes spaghetti, green beans, and a dinner roll. Purchase an individual meal, or a special deal for a family of four.
WHERE: 721 Wyatt Avenue, pick up at the back door
WHEN: 4:30 p.m. to 6 p.m.
Friday, Feb. 27
PTK Trivia Night
HOSTED BY: Iota Chi chapter of Phi Theta Kappa Honor Society
WHO: Public
DETAILS: See Article
WHERE: Meyer-Evans Student Center, Lincoln College
WHEN: 6:30 p.m.
Saturday, Feb. 28
Spirit Guides at the Atlanta Public Library
HOSTED BY: Atlanta Public Library
WHO: Adult/Public
DETAILS: See Article
WHERE: Adult Reading Room at the library
WHEN: 8:30 coffee & pastry 9 a.m. discussion
John Welsh Memorial Tournament
HOSTED BY: Lincoln Junior High School
WHO: Public
DETAILS: See Article
February | March