Send a link to a friend Share
April 2017
---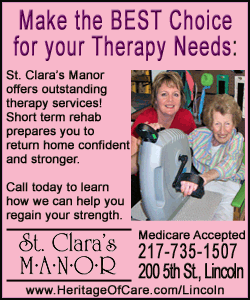 Saturday, April 29
Elkhart Wildflower Walk
See article in Lincoln Daily News
Check out Chestnut!
See advertisement in Lincoln Daily News
Grand Opening of the Mill on Route 66
Route 66 Museum
10:30 parade if weather permits
Noon - ribbon cut at the Mill
See article in Lincoln Daily News
Lincoln College Alumni Weekend
See article in Lincoln Daily News
Free Community Yoga Class
HOSTED BY: REPS Gym
WHO: Public
WHERE: REPS Gym, 300 S. McLean, Lincoln
WHEN: 10:15 a.m. to 11:15 a.m.
Fifth Saturday Opry
HOSTED BY: Eagles Lodge
WHO: Public with paid admission
DETAILS: Join the 5th Saturday Opry Band for an evening of classic country music. Doors open at 6pm with show at 7pm. Tickets sold at the door. Concessions sold by the Eagles Lodge. Free popcorn ! Use the entrance near the pavillion. Our special guest is Nashville recording artist, Heather Riley!
WHERE: Eagles Lodge, 1621 N. Kickapoo, Lincoln
WHEN: 7 p.m. to 10:30 p.m. (DOORS OPEN AT 6 P.M.)
Sunday, April 30
ALMH Prenatal Class
HOSTED BY: Abraham Lincoln Memorial Hospital
WHO: Free, registration requested
DETAILS: See article in Lincoln Daily News
Register by calling 217-605-5233
WHERE: ALMH Steinfort Room A
WHEN: 1 p.m. to 4 p.m.
April | May