Send a link to a friend Share
February 2021
---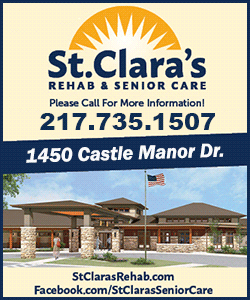 Saturday, February 27
Coffee with Rick
HOSTED BY: Rick Hoefle, candidate for Lincoln Ward 4
WHO: Free
DETAILS: See announcement in Lincoln Daily News
WHERE: Flossie & Delzena's
WHEN: 9 a.m. to 11 a.m.
Sunday, February 28
ALMH Prenatal Class
HOSTED BY: Abraham Lincoln Memorial Hospital
WHO: Free, registration requested
DETAILS: What is covered? When to Come to the Hospital, What to Expect During Labor and Delivery, Pain Relief Options, Breathing Techniques, Family Maternity Suites Tour. Register by calling 217-605-5233
WHERE: ALMH Steinfort Room A
WHEN: 1 p.m. to 4 p.m.
Sign and Dine Club
HOSTED BY: Sign & Dine Club
WHO: Open to all
DETAILS: Sign and Dine" is a group that promotes American Sign Language (ASL) and Sign English for the hard of hearing and the deaf. We meet the 2nd and 4th Sundays of the month @ 2:00 p.m. at different restaurants on Woodlawn Street, Lincoln, IL. We are happy to teach ASL or sign English. We have a lot of fun!
WHERE: Contact Ken Benham at 217-732-8101
WHEN: 2 p.m.