Send a link to a friend Share
September 2017
---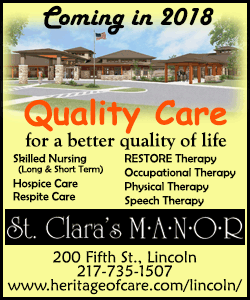 Saturday, September 30
Learn about the Power of Produce
at ALMH Market
HOSTED BY: ALMH Market, Abraham Lincoln Memorial Hospital
WHO: Public
DETAILS Last market day of the regular season
WHERE: Logan County Fairground
WHEN: 8 a.m. to Noon
Free Community Yoga Class
HOSTED BY: REPS Gym
WHO: Public
WHERE: REPS Gym, 300 S. McLean, Lincoln
WHEN: 10:15 a.m. to 11:15 a.m.
ALMH bicycle ride around Lincoln
HOSTED BY: ALMH Market
WHO: Public
DETAILS: Dr. Hal Mohammed, ALMH Hospitalist Program Director, will lead community members on a casual 5-mile bike ride through Lincoln. All fitness levels and ages are encouraged to bring a bike and join the ride.
WHERE: Logan County Fairgrounds, outside the market
WHEN: 11 a.m.
Free Movie Night at Mount Pulaski UMC
HOSTED BY: Mount Pulaski United Methodist Church
WHO: Public
DETAILS: See article in Lincoln Daily News
WHERE: Mount Pulaski united Methodist Church Fellowship Hall
WHEN: 5 p.m.. to 7 p.m.
Cosmic Bowling fundraiser
HOSTED BY: Center for Youth and Family Services and Logan Lanes
WHO: Public / fundraiser
DETAILS: See article in Lincoln Daily News
WHERE: Logan Lanes, Fifth Street, Lincoln
WHEN: 5 p.m..
Fifth Saturday Opry
HOSTED BY: Eagles Lodge
WHO: Public with paid admission
DETAILS: Join the 5th Saturday Opry Band for an evening of classic country music. Doors open at 6pm with show at 7pm. Tickets sold at the door. Concessions sold by the Eagles Lodge. Free popcorn ! Use the entrance near the pavillion.
WHERE: Eagles Lodge, 1621 N. Kickapoo, Lincoln
WHEN: 7 p.m. to 10:30 p.m.
Lincoln College presents Shakespeare (abridged)
HOSTED BY: Lincoln College
WHO: Public / admission fee
DETAILS: See story in Lincoln Daily News
WHERE: Hostick Theatre, Johnston Center, Lincoln College
WHEN: 7:30 p.m.
---