On Thursday, June 4, a Black Lives Matter protest march and rally organized by the Lincoln Direct Action Alliance and co-hosted by the Logan County Democratic Socialists of American was held at Postville Park and the Logan County Courthouse. A large crowd marched from Postville Park, "Black lives matter," "Hands up, don't shoot" and "No justice, no peace" echoed through the street.

When the crowd arrived at the courthouse, speakers spoke about the need for change as they shared stories of stereotyping, discrimination and racial inequality. One final message was that we need to make a change, or we will continue in the wrong direction. If we are going to make a change in the community, state or country, the change needs to start at home. After the group marched back to Postville Park, others continued to speak about the need for change and reconciliation.

June 9, 2020 Rally speakers share what to do for black justice

A rally the next week brought out even more people who heard about the need for change. the "Stand Together, Breathe Together" rally for peace, justice, unity and understanding held outside the Logan County Courthouse brought out over 250 people. The purpose of the rally was for people to come together to show and share love, share their stories and continue the message that black lives matter and all lives matter.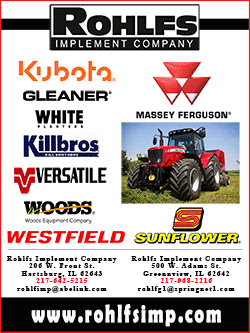 Those attending heard stories about the need for unity and reform from several community members who had experienced racism. Some shared examples of how systemic racism, police brutality and racial injustice for years had affected black people. Various community leaders urged the crowd to work towards reconciliation.

To help demonstrate what George Floyd was asked to do, speaker Jennifer Hunt asked people to either lie on the ground with their hands behind their backs and their face on the grass or concrete, kneel or raise up an arm. Then Hunt read a long list of victims of police brutality, asking everyone to think about what Floyd and several others experienced.

June 15, 2020 Lincoln rally looks back at black injustice and forward to change

On June 19th, members of the public and a few local officials gathered in Scully Park for a celebration honoring Juneteenth in Lincoln. Juneteenth is a holiday celebrating the emancipation of those who had been enslaved in the United States.

Various speakers talked about the importance of being anti-racist, of working towards a more diverse and inclusive community, and of plans to work with city and county officials to bring more voices into existing places of power. People sang, and children read poetry by Langston Hughes and essays surrounding important African-American figures. At the celebration, several speakers mentioned how wonderful it was to see such a diverse crowd come together to celebrate this occasion.

June 22, 2020 Juneteenth celebrated in Scully Park

On Monday, August 3, a crowd gathered around a billboard at the Logan County fairgrounds to celebrate its presence and the work being done to overcome hate in the community. The billboard, which reads "Hate is Not Welcome" started as an idea by former Logan County Board member Jan Schumacher after she heard about racist pamphlets promoting white supremacy being distributed around the area. Those same pamphlets were distributed in other areas as well, but received a loud response in the city named for Abraham Lincoln.
Those speaking talked about the need to take a stand against racism and hatred and make Lincoln feel welcoming to everyone. Ron Keller spoke on behalf of the Lincoln city government and the mayor, and said the city council is putting together language to form a publicly run commission to bring diverse voices and experiences to the city council. The commission is intended to tell the council how to be more welcoming and inclusive.


August 5, 2020 Message calls Lincoln to stand together

Changes at the courthouse

In preparation for the restoration, court proceedings and county meetings are taking place to the second floor of the Orr Building across the street from the courthouse on Broadway. Offices on the third floor of the courthouse were moved to other areas in the courthouse.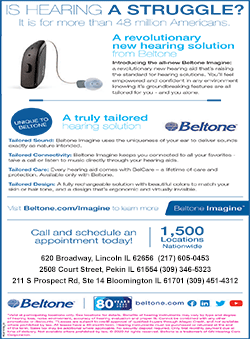 During the restoration, Project Manager Bill Walter of MRTS and construction management group CTS are leasing office space on the first floor of the Orr Building to be used for meetings and other work. These companies will be subleasing the building.

August 25, 2020 Logan County Board briefs for August

Another significant but sad event occurred August 23, when long time board member Chuck Ruben died unexpectedly. For the better part of the past 20 years Ruben served as finance chairman of the Logan County Board with two of those years as board chairman.

Many persons in leadership called on Chuck for short answers or important guidance. His family and friends, as well as co-board members and department heads, all have felt the sudden void of one who has been so central in their lives. As Logan County Treasurer Penny Thomas said, Chuck was a leader, a teacher and a friend. I feel the board, and the county as a whole, will feel the loss of his experience for years to come." At the Regular Logan County Board in October, board member Annette Welch presented the late Charles Ruben's family with a plaque recognizing his many years of service to the board.


October 1, 2020 Civil servant Chuck Ruben leaves a finance legacy

October 26, 2020 Chuck Ruben family honored by Logan County Board

The year 2020 also was the end of many years of service for two other long time public servants who retired November 30. In resolutions written by Logan County Board member David Hepler, he described what Mary Kelley and Robert 'Bob' Thomas accomplished during their years working for the county. The two had a combined 57 years of service to the county.

Kelley had worked in the Circuit Clerk's Office since 1979. She had served as Logan County Circuit Clerk since being elected in 2010. Kelley always worked well with the County Board and other office holders. Among many other accomplishments, Kelley generated the first e-filing with the state in October 2016.

Bob Thomas was elected as Logan County Coroner in 2004. Thomas chose to run for coroner after completing a distinguished career in Emergency Services and serving as Lincoln Rural Fire Chief. During his time as Coroner, Thomas's restructuring involved establishing an actual office for the coroner and hiring several outstanding individuals to serve as deputy coroners. Thomas also secured a van to transport the deceased.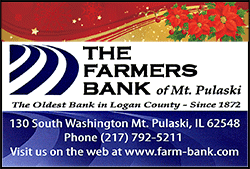 Tuesday, December 1, 2020 Logan County Circuit Clerk Mary Kelley and Coroner Bob Thomas retire
The Fifth Street Road project received more funding in 2020, which will help the project move forward. Design work began in 1996 on the rural section of Fifth Street Road. Since then, the county has continued to make slow, but steady progress on the project. Unfortunately, the cost of construction has not allowed the project to move forward.

In March, Logan County Engineer Bret Aukamp said plans for improvement were moving forward. A $2 million donation from Liberty Power, who owns the Sugar Creek Wind Farm project, would help supplement motor fuel tax funds.

In November, the Road and Bridge Committee approved appropriating $4.3 million for construction of the western section of the Fifth Street from the motor fuel tax and Liberty Power donation.

When the Logan County Board met for its November voting session, they approved the funds to reconstruct a six-mile portion of the 12-mile roadway.

The reconstruct will be between 100th Ave, known as the New Holland/Middletown Blacktop and 700th Ave, known as Rocky Ford Road. The six miles represents the major portion of the county's responsibility for the road with the remaining couple of county miles to be completed in the future.

The city of Lincoln is responsible for most of the portion between Interstate 55 and the Lincoln Parkway.

March 20, 2020 Logan County moving forward with rural Fifth Street Road project

December 8, 2020 Logan County November briefs: Fifth Street Road construction funds approved, Animal Control Wardens reappointed

December 9, 2020 Long awaited Fifth Street Road Project construction funds approved by Logan County

[Angela Reiners]