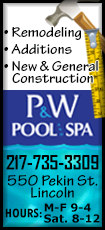 The tables remain filled as those who reach their fill of pancakes and handmade sausages leave to make room for those who are still hungry and anxious to eat.

Zion Lutheran School tradition a family tradition for many

Annual breakfast a school tradition and a family tradition for many - slideshow

There was a new event at Lincoln College in January. An opportunity to have a special presentation during black history month presented itself, and the college was more than happy to have the True Black History Traveling Museum visit the campus.

The traveling museum was open to the public and a large number of visitors took it in.

True Black History Traveling Museum offers insight to the role of African Americans in U.S. history

Lincoln College commemorates Black History Month with True Black History Museum exhibit - slideshow

A few days after the exhibit, Lincoln College celebrated it's 155th Charter Day when Illinois Historian Dr. Samuel Wheeler was presented with an honorary doctorate.

On Friday evening, Lincoln College hosted it's 155th Charter Day Ceremony in the Johnston Center. At that gathering, Dr. Samuel Wheeler, State of Illinois Historian, was presented with an Honorary Doctorate of Humane Letters. Wheeler (left) received his degree from Lincoln College President Dr. David Gerlach.

Photo by Jan Youngquist
Lincoln College celebrates 155th Charter Day
Illinois' Historian Dr. Samuel Wheeler bestowed honorary doctorate

Dr. Samuel Wheeler - Abraham Lincoln's inspirational passion for learning

In 2020, for the first time, the Lincoln Community High School Future Farmers of America hosted their annual breakfast at the American Legion. The breakfast became a joint fundraiser for the FFA and the Legion Baseball program. In addition to great food prepared by the Legion, there were the traditional auctions by the FFA, which brought in some big bucks for the organizations.

Clark the Chicago Cub mascot was supposed to make an appearance at the breakfast, but couldn't make it. It was the second time that foul weather had kept the bear from visiting Lincoln. Some had to wonder if Fred Bird the Red Bird had somehow seeded the clouds to drop snow and other nasty weather in the cub bear's hometown of Chicago, preventing the cub from leaving his den.

Legion Baseball/FFA Breakfast guests pack the house on Sunday

Lincoln Community High School FFA Chapter Annual Breakfast Fundraiser - slideshow

The annual 4-H Spaghetti Dinner was next on the list of things to do in February. Held the same day as the FFA Breakfast, those who chose to do so could have stuffed themselves to the gills with two wonderful meals. In spite of the fact that the two youth program fundraisers occurred on the same day, the turn out for both was remarkable.



The annual Spaghetti Fundraiser hosted by the Logan County 4-H Clubs is always a crowd-pleaser, and this year was no exception. Hundreds came on Sunday to the Knights of Columbus Hall in Lincoln to enjoy spaghetti with meat sauce, garlic bread, salad, and dessert. During the event, the local 4-H clubs and individual members were recognized for their achievements in the past year.

Photo by Nila Smith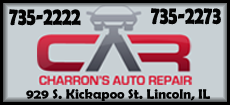 Local 4-H members receive well deserved recognition at Spaghetti Fundraiser

Logan County 4-H Award recipients - Album

In February the Greater Peoria Economic Development Council partnered with the newly formed Lincoln Economic Advancement and Development, Inc. (LEAD) to host the Logan County Big Table. The event was a tool for the GPEDC to determine the needs and priorities of each of the communities it represents.

Logan County Big Table: Big concerns - Big assets

The local sports section provided a few notable headlines as local junior high teams made their mark in basketball tournaments.

West Lincoln Broadwell wins Seventh Grade State Championship

West Lincoln-Broadwell Eighth Grade Team headed to State

Lincoln Junior High Eighth Grade Boys Basketball Team headed to State

Staying in the sports section, the Lincoln Community High School Railette Dance team made school history being the first dance team ever to win a state competition.



The LCHS Railettes won the 2020 Illinois Drill Team Association AA Pom State Championship over the weekend. The State finals were held at the BOS Center in Springfield.

The Railettes routine featured the song "At the Hop." For their flawless routine, the girls wore costumes that were a take on the 1950s diner waitresses, complete with pink aprons.

Photo courtesy of Lane Hullinger

LCHS Dance Team makes school history with State Championship

Two additional milestones for local athletes were noted in the top pictures box in the sports section of Lincoln Daily News.




On Friday night in Taylorville, Kaden Froebe (left) became the 21st Railer in basketball history to reach the 1,000 point club. Prior to the start of the game Taylorville's Jase Bergschneider was honored as the Tornadoes new all-time leading scorer in school history. The historic evening concluded with Lincoln Head Coach Neil Alexander's 700th win.

Teena Lowery



Early in the third quarter of the Class 1-A Regional game between Mount Pulaski and Argenta-Oreana on Tuesday night, Mount Pulaski senior Brandon Kretzinger scored his 1,000th point on a three-point basket. The Hilltoppers won on the home court 75-26 with Kretzinger pouring in 26 points.

Congratulations, Brandon!

Photo by Teena Lowery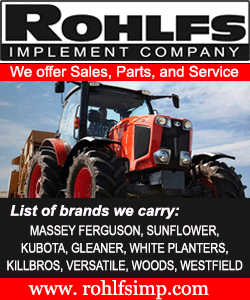 Mid-month February a fire destroyed an abandoned home in Lincoln. Mitch Douglas was there to capture the action in photos for LDN. At a meeting of the Lincoln City Council soon after, Lincoln Fire Chief Bob Dunovsky and Alderman Tracy Welch talked about the fire with the aldermen.



A house fire broke out a few doors west of Ninth and Elm Streets in Lincoln early Thursday afternoon. Reportedly the house was abandoned. Multiple fire departments responded and had the fire under control a couple of hours after it was discovered. LDN will have more information when it becomes available.

Photo by Mitch Douglas

Local firefighters battle Lincoln house fire in snow and frigid conditions - Album
Lincoln City Council: Welch and Fire Chief Dunovsky comment on Ninth Street house fire

The later part of the month, Lincoln Daily News released its annual Education Magazine containing news and interesting stories about our local educators. Among those stories was a great piece written by Teena Lowery, talking about the great things going on within the Mount Pulaski schools.

Exciting things ahead for the future of Mount Pulaski CUSD #23

February, the month of love also brought news of some acts of kindness within our community.

One of the more significant of these events was the presentation of a car to Lincoln resident Catherine Eckart by local businessman Seth Goodman.



On Friday, Logan County resident Catherine Eckart received a really big Valentine from local businessman Seth Goodman. Eckart was the recipient of a 2012 Chrysler 200. Goodman had worked with Graue Chevrolet in Lincoln to secure a low mileage vehicle that he in turned gifted to one person nominated by members of the community. Nearly 20 people nominated Eckart, including several of her family members. Eckart had recently totaled her car and needed another vehicle. She had been working with Graue salesman Mitch Brewer and thought she was at the dealership to sign the papers on the car she was buying.

Photo by Nila Smith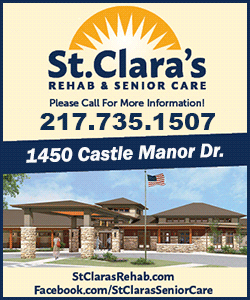 Catherine Eckart receives a special Valentine from local businessman Seth Goodman

Lincoln Daily News was also pleased to be able to present to the Humane Society of Logan County $200 that had been collected through the new Animals Stories magazine that rolled out in January. Within the magazine there was an opportunity for readers to submit a photo, short story, and a donation in memory of a pet that had passed.



In January, Lincoln Daily News introduced a new online magazine called Animal Stories. Inside the pages of the magazine were stories about living with, taking care of, and loving our pets. There were opportunities for readers to submit living pet photos in contests and a memory section for pets who have passed.

LDN suggested that readers make a donation to the Humane Society of Logan County in memory of pets and send the gift along with their submission to the magazine. This past week, LDN's Roy Logan and Karen Hargis delivered $200 to the HSLC as a result of those donations.

The donation was graciously accepted by Wanda Stevens (left) and Mary Dowdle. Thanks to all who donated. That money will help the HSLC take care of animals living at the shelter awaiting a new forever home.

Photo by Karen Hargis

Lincoln Daily News continued on with its Community Champion Award naming Country Aire Restaurant owner Nick Bekteshi the February recipient.



Nick Bekteshi, owner of the Country Aire Restaurant in Atlanta, has been selected as the February Community Champion by Lincoln Daily News.

LDN staff surprised Nick on Wednesday with the extra-large traveling trophy and a lovely planter prepared and donated by Debbie's Downtown Floral in Lincoln.

Left to right are Lumi and Nick Bekteshi, and Roy Logan and Karen Hargis of Lincoln Daily News.

Photo by Nila Smith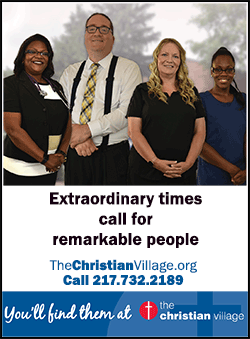 Nick Bekteshi named February Community Champion

In February, one of the more fun stories that LDN was able to run featured a local woodcarver who was busy turning dead trees and stumps into art in Kickapoo Creek Park.

This is the same artist who created Henry the Owl. The owl is becoming famous in his own right because he changes clothing to depict the season. Located right along the edge of the road in the park, the owl is easy to see and a popular "rest stop" for walkers in the park.

Carvings pay tribute to namesake and birds of Kickapoo Creek Park

Woodcarver Darrell Wibben adds his art to Kickapoo Creek park - Album

Coronavirus made its debut in the United States in January. Early in the process very little was known about the mystery disease that allegedly came to America from China.

By February, the coronavirus was a strong topic in the national and world news, but for the most part had no impact on local residents or local news.

On the 27th of February, the state of Illinois issued a news release urging caution, yet saying that the risk to Illinoisans remained low. Little did they know what lay ahead for all of us.

Illinois Taking Preventative Action to Limit Spread of Coronavirus
Current risk to Illinoisans remains low, but state taking all steps to prepare
Lincoln Daily News would find our community suffocated by the impact of coronavirus in March. It would be the beginning of a long and painful balance of 2020 as the tables turned and our good new year suddenly turned sour.

But true to the American spirit, and especially in Logan County, people looked for how to help one another. Things would get real creative.

Be sure to continue following the LDN Year in Review for a look back at what made local news and local history in our community.

[Nila Smith]