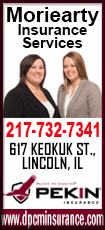 Among those permanent changes was the announcement that Lincoln Mayor Seth Goodman was tendering his resignation. Goodman had announced in 2019 that he would not seek re-election in 2021. At that same time Lincoln Ward 1 Alderman Tracy Welch had announced that he would run for Mayor to replace Goodman.

Lincoln Mayor Seth Goodman resigns

Dear Seth Goodman
A letter to our former Mayor

Welch seeks appointment as Acting Mayor of Lincoln

Local education programs were coming to an end and school was officially "out" for the summer.

Students had learned to cope with their new environment and had done their best to complete projects under extreme circumstances.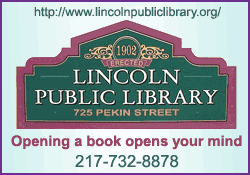 The Land of Lincoln Creating Entrepreneurial Opportunities and the Lincolnland Technical Education Center, Building Trades projects were two examples of how the work went on.

LLCEO Class of 2020 endures a very unusual year

Virtual trade show day one

Virtual trade show day two

Virtual trade show day three

LTEC Building Trades completes another new home project

Lincolnland Technical Education Center Class of 2020 Building Trades home - slideshow
Photos by Matt Puckett

Another great event that typically takes place in March is the Ag Scholarship Breakfast hosted by the Logan County Farm Bureau. The March event had to be cancelled, but the scholarship selection committee still reviewed applications and in June announced the recipients of the 2020 Ag Day Scholarships.

Five Ag Day Scholarship winners announced

Trying to be 'normal' again, several improvement projects were underway in Lincoln and Logan County in June. The long-standing businesses in our community were re-opening and working toward making up what had been lost and there were new businesses opening their doors for the first time, such as the Market on the Hill in Mount Pulaski.



Market on the Hill Store Manager Sam Brown (center left with scissors) is joined by Mount Pulaski Mayor Matt Bobell in preparation of snipping the ribbon on the new community grocery store.

The two are surrounded by members of the Market on the Hill Board of Directors and several special guests. The ribbon cutting was part of a Grand Opening celebration in Mount Pulaski on Friday evening.

A huge crowd turned out to enjoy free food prepared by Hilltop Catering with products that can be purchased inside the market and to celebrate the huge accomplishment for the community. The town has been without a grocery store for the past several years. Now, the Market on the Hill offers a small town grocery feel while fulfilling a need in the community.

Photos by Nila Smith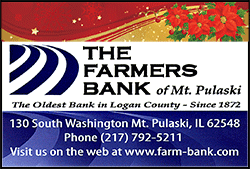 Ameren Illinois Working With City Of Lincoln to Increase Visibility With LED Streetlights
New streetlights save money, last longer and use up to 65 percent less energy

CCAonline moves forward with projects to improve internet services to its customers

New Communications Shelter arrives in Lincoln - slideshow

Watching the big swing and drop - slideshow

Taking additional steps to return to normalcy, the city of Lincoln aldermen agreed that it was time to re-open the Amtrak waiting station. Both the waiting station and the Logan County Tourism Bureau Depot Visitors Center had been closed since March. LCTB staff members had returned to work, but were planning on keeping the doors locked to the public until the waiting station was re-opened.

City makes plans to re-open Amtrak waiting station

In other city of Lincoln news, it appeared that the dominate topics at the meetings of the city council focused not of viruses, but on animals.

Lincoln City Council
Animal topics dominate discussion

Lincoln animal control ordinance changes put more 'bite' into fines

Chicken debate continues in Lincoln

Supporting our community and taking care of those in need continued to be a practice as a number of events took place throughout the month that helped those in need.



The Heartland Beef Alliance with members/producers from Logan, Mason, Sangamon and Tazewell Counties recently donated 100 pounds of ground beef to the Lincoln Logan Food Pantry in Lincoln. The beef was sourced from Matt and Karianne Short and the Atlanta Locker Service.

Alliance President Betsy Pech commented, "As beef producers it is our job to promote beef, a great source of protein. In addition, this donation will help serve the many families who rely on the food pantry."

Left to right front row: Heartland Beef Alliance members Larry Eimer, Betsy Pech and Diane Lindgren.
Back row: Norm Newhouse and food pantry volunteers.

Photo provided by Betsy Pech



Last week was National Certified Nurses Aid Week across the country. Locally, St. Clara's Rehab and Senior Care celebrated its special "superheroes" with some special gifts.

All the CNA's on staff received CNA coffee mugs. The CNA staff also received gifts of appreciation from other entities. Graue Chevrolet in Lincoln donated cups to the team. St. Clara's filled the containers with candy before handing them out.

Kindred Hospice out of Springfield also presented "survival bags" to the CNA's. Each bag included free gifts and an inspirational message of gratitude for the work of the CNA staff.

CNA's also wore their superhero shirts that said on the front, "Some superheroes wear masks, not capes."

Photo provided

Rick Hamm and staff donate I-pads to Generations and St. Clara's



Michael White, MSED, Hospice Specialist with Kindred Hospice, donated "comfort animals" to the residents at St. Clara's Rehab and Senior Care last week. Kindred Hospice had reached out to the facility asking how they could help to relieve some of the stress and anxiety with residents during "visitor restrictions." The gifts were accepted by Darcie Culbertson, Community Relations Coordinator at St. Clara's.

St. Clara's wishes to thank Michael and the team at Kindred Hospice for thinking of the residents at St. Clara's Rehab & Senior Care.

Photo provided

There were some heartwarming, happy and bittersweet moments in the community in June. As we emerged from our "stay at home" stupor, the community found ways to come together without getting too close.



Congratulations to Morgan Lacefield of Lincoln and Michael Young of Springfield. Today, the couple will tie the knot in the Lacefield family's backyard.

Earlier this week, Morgan's family was busy setting up this tent that will be part of the floorplan for the wedding.

Just goes to show, not even pandemic can stop a June bride!

Karen Hargis



Where social distancing is involved, there are usually 'work-arounds" if one has a big enough imagination. For these close friends keeping their distance does not mean they can't see one another from time to time. The girls gather on occasion, meeting where they can see one another without getting too close. Last week these three met in the parking lot of the now vacant Kroger grocery store for a nice long visit.

The ladies said there are about a dozen close friends who get together from time to time, weather permitting. They added that last week they met in the parking lot of the former Big R in Heritage Plaza. On that day, 11 gathered for a nice chat.

Karen Hargis



Starting today another food-truck style business will be opening at the Logan County Fairground. Pat's Famous Walleye will serve alongside Cullers Fries and Nuthatch Hill BBQ on Monday, Wednesday and Friday until further notice. Serving begins around 11 a.m. on each of the three days of the week.

Photo taken from social media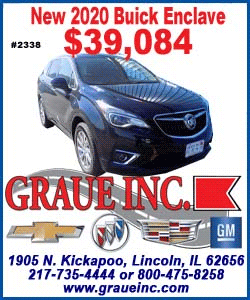 Logan County also had sadness in June. To start the month beautiful memorial tributes were held in remembrance of Allissa Martin and others who had suffered the loss of life due to domestic violence.

Martin and domestic violence victims remembered at Eaton Field

Friends and family remember Allissa Martin - slideshow

Logan Correctional holds remembrance honoring Allissa Martin

Corrections family comes together for Allissa - slideshow

Lanterns float to the heavens with messages for Allissa - slideshow
Eileen Mullins at Sir Renna Tea shared her story of a friend who had passed. A display in her window designed by the friend was maintained as a remembrance.



For several weeks a display in the window of Sir Renna Tea paid tribute to the anniversary of the Civil War, but as time passed, it also paid tribute to the man who put the display there.

Eileen Mullins, owner of Sir Renna Tea remembered visits from Pastor Dave Hutton of Mount Pulaski recently. She said that he often came to the tea shop with his granddaughter. Together they enjoyed a refreshment and visited with Eileen. Eileen said one day he was talking to her about the Civil War and said there should be something to commemorate the anniversary dates of that war. Eileen told him that if he wanted to do something, she would 'give' him her front window for a month.

She said that Hutton was very excited about the invitation and took her up immediately. She recalled he came in with all of his props and carefully set up the scenes, including the battle of Sir Renna Tea Junction.

Of course, then came coronavirus and the shop was closed. Eileen didn't get the opportunity to share Hutton's story. And then tragically, Pastor Hutton passed away on April 29th.

Eileen said she is going to miss his visits and is sorry she didn't get a chance to see him in the last few months. But she is thankful for the time he shared with her, and also thankful for the window. She said that she will be taking the display down soon, but plans to keep all the parts and put it up again next year in memory of Pastor Hutton.

Photo by Nila Smith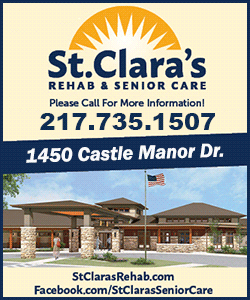 Lincoln Daily News joined many in the community who mourned the loss of a dear and quirky friend. Moses Pinkerton aka Toby Prange passed away suddenly in June and left a big hole in our hearts as well as in our community.



It is with fond remembrance we post this photo of a most recently completed work by the late Toby Prang aka Moses Pinkerton. Moses passed away unexpectedly earlier this week.

Moses came to Lincoln to establish an artist community, did so quite successfully by encouraging others and providing a beautiful professional gallery, the Lincoln Art Institute, for displaying local and visiting artists works. He gifted significant sculptures to our community that the public may enjoy for decades, such as the iconic 'Cow in the Corn/Route 66,' which is visible to train passengers.

A colorful figure regularly attending community events, he will be missed by all who knew him, the downtown community where you could expect to see him and engage in friendly banter on any given day, and most especially the artist community he built and fostered.

The new 300 pound sculpture crafted from a tree was installed recently at Kickapoo Creek Park. Like the man himself, this piece is difficult to describe, but easy to appreciate. As wildlife inhabits the nooks and crannies, it will become a living tribute to the man who made it.

Photo by Curtis Fox/Text by Jan Youngquist

In other news

In other news there were feel good stories and stories that showed our community was changing and focusing on the future in spite of the past.

Donna Cunningham announced as new Director of Youth Services at Lincoln Public Library



On June 9th, Deb Curry reached 40 years of service at J.M. Abbott and Associates.

Over the last four decades, she has worked with countless individuals and businesses to help unravel accounting, tax, and audit complexity. Deb has exhibited unwavering commitment to the firm and to the local community she serves.

Please join us as we celebrate her nearly unheard of career milestone and achievement.

Photo and text provided by Tim Bacus, EA - Wealth Management Advisor



Late last week, Scott Lindley of Mount Pulaski and his two children and a friend took on a new Lincoln project. The four worked to recreate a vintage hand-painted Coca-Cola billboard that had nearly faded away with years of aging. The billboard is located in the garden area between Idle Hour and Leith Plumbing on Broadway Street.

By Monday the sign was all finished. Lindley said his goal was to make the billboard look aged and somewhat "ghostly" on the wall.

Lindley, who was once a part of the Walldogs of Mount Pulaski, is now working independently and owns CSL Studio. Lindley does murals, hand-painted billboards, signs, illustration and graphic design.

Photos by Karen Hargis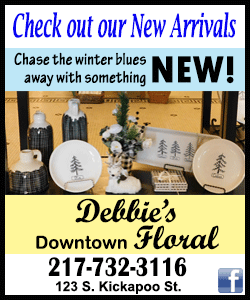 This Bearded Dragon now residing at the Lincoln Public Library was found at the Campbell Creekside Outdoor Center for Environmental Education located north of Lincoln. Bearded Dragons are native to Australia and would not be able to survive through an Illinois winter.

Dr. Dennis Campbell from Creekside contacted a number of people to see if they would be willing to adopt the lizard. The library director, who cares about all types of animals (except for ticks and mosquitoes) agreed to provide it a home at the library. A naming contest will be held once the library is fully open.

Photos provided by Michael Starasta



Now here is a fish tale worth telling!

Ben Sellmeyer of Boy Scout Troop 122 in Mount Pulaski participated in the "Virtual Fishing Derby" hosted by Logan County's Crossroads Scout District. He caught the largest fish in the district and is pictured holding his prize fish.

Troop 122 in Mount Pulaski has been sharing resources provided to its Scout Troop to keep youth involved with Scouting during Covid-19 when unable to attend meetings.

For more information about Troop 122 in Mount Pulaski and to learn how to be a part of the troop, contact Scoutmaster Jason at 224-858-6064.

Photo by Jennifer Riedle

And, the best "feel good" story of the month came from the keyboard of our roaming reporter Curtis Fox. The story of a 1937 Stinson Reliant airplane that came limping into the Logan County Airport with serious engine issues got the attention of several LDN readers. A few were prompted to contact the editors and beseech them to be sure and "tell the rest of the story." Fox would do just that a few months later when the airplane successful took flight from the Logan County Airport with a rebuilt radial engine.



This beautifully restored 1937 Stinson Reliant airplane made an emergency landing at the Logan County Airport earlier this month. When new, the aircraft was sold to American Airlines and used as a 'route survey' plane training new pilots. Its owner/restorer, Dean Del Bene of Chicago, was assisting in the new owner Mark Riedl ferrying the plane to its next home in Texas.

Just north of Lincoln the pilots heard an engine problem and made an emergency landing. They safely brought the plane to the ground and assessed their situation with the help of a local pilot and friend of Riedl, Ed Baker of Atlanta.

Photo by Curtis Fox

Right time, right place, right friends: Historic aircraft with engine concern lands Logan County Airport

Historic airplane lands in Lincoln - Album

In conclusion, June for the most part was a good month, one in which we were very nearly able to forget what was going on in the world around us. It was a nice reprieve that would continue on into July.

[Nila Smith]