Lincoln Daily News
welcomes letters of appreciation, information and opinion on matters pertaining to the community.
As a community we need to be able to talk openly about matters that affect the quality of our lives. The most effective and least offensive manner to get your point across is to stick to the issue and refrain from commenting on another person's opinion. Letters that deviate from focusing on the issue may be rejected or edited and marked as such.
You may also send your letters by email to ldneditor@lincolndailynews.com
or by U.S. postal mail:
Letters to the Editor
Lincoln Daily News
601 Keokuk St.
Lincoln, IL 62656
Letters must include the writer's name, telephone number, and postal address or email address (we will not publish address or phone number information). Lincoln Daily News reserves the right to edit letters to reduce their size or to correct obvious errors. Lincoln Daily News reserves the right to reject any letter for any reason. Lincoln Daily News will publish as many acceptable letters as space allows.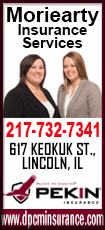 To the editor:

The Mount Pulaski Courthouse Foundation would like to thank the community for their overwhelming support of our 2018 Spring Gala. We are so fortunate and blessed to be part of such a generous and compassionate community.

A very special thank you to all the business and individuals who donated merchandise, time, and/or money to help make this event a spectacular evening.

Due to the community's continued support the Foundation has raised approximately 45,000.00 toward our 75000.00 goal for 2018. Look for more fun events in the future as we continue to work towards 75000.00!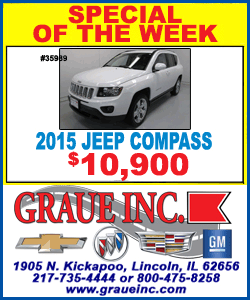 Funds raised in 2018 will help pay for renovation project 2, repair of the east wall.

The Foundation looks forward to celebrating with you all again in 2020!
Mount Pulaski Courthouse Foundation
Submitted by Jamie Jones
[Posted May 3, 2018]