Lincoln Daily News
welcomes letters of appreciation, information and opinion on matters pertaining to the community.
As a community we need to be able to talk openly about matters that affect the quality of our lives. The most effective and least offensive manner to get your point across is to stick to the issue and refrain from commenting on another person's opinion. Letters that deviate from focusing on the issue may be rejected or edited and marked as such.
You may also send your letters by email to ldneditor@lincolndailynews.com
or by U.S. postal mail:
Letters to the Editor
Lincoln Daily News
601 Keokuk St.
Lincoln, IL 62656
Letters must include the writer's name, telephone number, and postal address or email address (we will not publish address or phone number information). Lincoln Daily News reserves the right to edit letters to reduce their size or to correct obvious errors. Lincoln Daily News reserves the right to reject any letter for any reason. Lincoln Daily News will publish as many acceptable letters as space allows.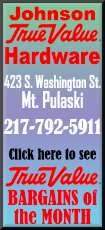 To the editor:

Logan County Animal Rescue (LCAR) is an all-volunteer group that works together to save the lives of the animals of Logan County.

We transport dogs and cats to No-kill shelters around Illinois. When a No-kill shelter commits to saving the life of a Logan County animal, our group pays the medical expenses which can be costly. One medical test typically runs around $20 per animal. Cats require a Combo test (FIV/AIDS) and dogs require a DHPP (Distemper) and a Heartworm test before they are allowed on a transport. This is to ensure the health and safety of all animals on the transport.
In order for LCAR to save and transport more animals, we need your help. Any monetary donation is greatly appreciated. We are a 501C3 and all donations are tax deductible. You can send a donation through the mail to LCAR at 750 Prairie St., Lincoln, Il. 62656 or you may visit our website http://www.logancounty animalrescue.com/ and donate through our PayPal button.

Thank you in advance for your kindness and support.

Sincerely,
Logan County Animal Rescue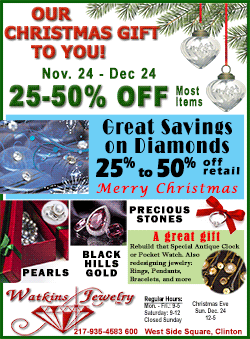 Editorís note: While the public entity charged with public safety and health through animal control, Logan County Animal Control, tries to adopt out as many of the animals brought in to its facility as they can, there is a limited time each animal can be kept there and there are always more animals than can be adopted out. One of the biggest ways the Animal Rescue affects Logan County pets is by transporting worthy animals to a no-kill shelter.

Additional information can be found on the LCAR website including these statistics on lives saved:

In 2016, LCAR rescued 295 animals out of Animal Control.
In 2015, LCAR rescued 201 animals out of Animal Control.
In 2014, LCAR rescued 119 animals out of Animal Control.
In 2013, LCAR rescued 144 animals out of Animal Control.
In 2012, LCAR rescued 155 animals out of Animal Control.
In 2011, LCAR rescued 147 animals out of Animal Control.
In 2010, LCAR rescued 231 animals out of Animal Control.
In 2009, LCAR rescued 239 animals out of Animal Control.

Your donation will save worthy pet lives.
[Posted December 11, 2017]