Visitation: 11 a.m. until 1 p.m. Friday, July 12, 2019 at Full Gospel Evangelistic Center
Service: 1 p.m. Friday at the church
Funeral home: Holland Barry & Bennett Funeral Home
Obituary
Shana M. Parr, 49, of Lincoln, passed into Glory July 6, 2019 at her home surrounded by her family.

Visitation will be from 11 a.m. until 1 p.m. Friday, July 12, 2019 at Full Gospel Evangelistic Center with funeral services following at 1 p.m. also at the church with Pastor Steve Owens officiating. Burial will take place at 2 PM Monday, July 15, 2019 at Camp Butler National Cemetery, Springfield. Holland Barry & Bennett Funeral Home in Lincoln is assisting the family with services.

Shana was born January 21, 1970 in Chicago, Illinois, the daughter of William Mallett and (Evelyn Lewis) Stancle. She married John Parr on July 3, 2008. Shana was a faithful member of Full Gospel Evangelistic Center. She was full of faith and the joy of the Lord was very evident in her life. She was loving, funny, friendly, outgoing, strong, and never met a stranger. Her smile could light up a room and her love could be felt through her acts of service to others.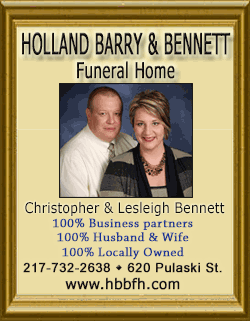 Surviving are her husband John Parr; children: Darvez Stancle, India (Chris) Simer, Sylvia Parrish, and Bobbi Parrish; grandchildren: Greyson Parke, Nehemiah Simer, Vivian Parke, Adalynn Wheeler, and baby Simer on the way; siblings: Frank Stancle, Joseph Stancle, Myron Stancle, Raquel Harris, Geno Stancle, Asia Blackfeather, Gregory Mallett, Pat Mallett, Beverly Mallett, Donna Parr Mallett, and Pam Lynch; a host of nieces, nephews, cousins and friends also survive.

She was preceded in death by her parents and her brother Pete Thomas.

Memorial donations may be made to Full Gospel Evangelistic Center.

Click here to send a note of condolence to the family of Shana M. Parr