Visitation: 2:00-5:00 p.m. on Sunday, September 15, 2019, at Fricke-Calvert-Schrader Funeral Home, Mount Pulaski
Service: 10:00 a.m. on Monday, September 16, 2019, at The First United Methodist Church in Mount Pulaski
Funeral home: Fricke-Calvert-Schrader, Mount Pulaski
Obituary
Claus Lowell Tanner, 82, passed away at 3:25 p.m. on September 9, 2019, at Decatur Memorial Hospital.

Claus was born on December 10, 1936, in McCall, son of Lowell Edgar and Marguerite (Bavery) Tanner. He married Rosalie Cadwell on June 14, 1959, in Carthage. She survives him.

Also surviving are his children: Suzanne (Robert) Behle of Morton, Michael Claus Tanner of Bloomington, Marilyn (Darin) Blasiar of Chesterfield, MO, and Celeste (Thomas) Reynolds of Sandwich, MA; one brother: David (Hilda) Tanner of Petersburg; one sister: Nancy Atto of Galesburg; six grandchildren: Max Behle, Hannah Behle, Aurelia Reynolds, Juliana Reynolds, Adam Blasiar, and Andrew Blasiar; one great grandchild: Nicholas Behle.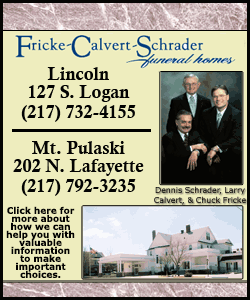 Claus was a music educator at Mount Pulaski School District for 36 years and was the Choir Director at the First United Methodist Church in Mount Pulaski for many years.

Services for Claus will be held at 10:00 a.m. on Monday, September 16, 2019, at The First United Methodist Church in Mount Pulaski with Pastor David Hutton officiating. Visitation will take place from 2:00-5:00pm on Sunday, September 15, 2019, at Fricke-Calvert-Schrader Funeral Home, Mount Pulaski. Burial will follow the services at Mount Pulaski Cemetery, Mount Pulaski.

Memorial donations may be made in Claus' name to The First United Methodist Church in Mount Pulaski or to the family which will later be applied to a music memorial scholarship at Mount Pulaski High School.
Click here to send a note of condolence to the family of Claus Lowell Tanner