Visitation: 5-7 p.m. Friday, November 8, 2019 at Holland Barry & Bennett Funeral Home
Service: 11 a.m. Saturday, November 9, 2019 at the funeral home
Funeral home: Holland Barry & Bennett Funeral Home
Obituary
John A. Freese, 59, of Lincoln, passed away November 1, 2019 at Memorial Medical Center.

Visitation will be from 5-7 p.m. Friday, November 8, 2019 at Holland Barry & Bennett Funeral Home. Funeral services will be at 11 a.m. Saturday, November 9, 2019 also at the funeral home. Casual dress is requested. Burial will follow in Zion Cemetery, Lincoln.

John was born September 1, 1960 in Lincoln, IL., the son of Robert and Esther (Staton) Freese. He married Donda Sutton on July 28, 1984. John was a 1979 graduate of Lincoln Community High School where he played football. He was formerly employed at Builder's Supply, Burwell's, Logan Correctional, Eaton, Thrall Car, and Trinity Wind Towers. He was an avid Jeff Gordon Racing fan. He enjoyed welding, fishing, playing slot machines, and Pepsi Cola. His "kids" were the light of his life. His children, grandchildren, nieces, nephews, and others were always considered his "kids" and he was always happy to see them and spend time with them.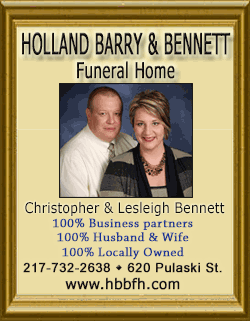 Surviving are his mother Esther Freese (John Berberich), wife Donda Freese, daughter Shawna (Dakota) Martinie, son Shane (Abbey) Freese, grandchildren: Zowie, Rylee, Landon, Lillian, Hunter, Gracie, Faith, and Bailey; brother Doug Freese, sister Dr. Bonnie Crickman, and sister Carla (Jack) Depoy. Several nieces, nephews, cousins, and friends also survive.

He was preceded in death by his grandparents: John and Mary Freese, Hazel and Marian Bunker, and Drew Staton; and granddaughter Hinley Ann Freese.

Memorial donations may be made to Donda Freese to assist with expenses and will be accepted at the funeral home.

Click here to send a note of condolence to the family of John A. Freese