Service: Friday, December 21,2018 at 2 p.m. at Holy Family Catholic Church in Lincoln
Rosary at 1:30 p.m.
Burial will be Saturday December 22 at Noon in the Calvary Cemetery in Newton
Funeral home: Fricke-Calvert-Schrader, Lincoln
Obituary
Kathleen McCullough passed away 24 October 2018 in Sykesville, Md at Copper Ridge Nursing home. Raised in Newton, she was born to the late Francis (Duffy) and Anna (Franke) McCullough. Kathy is survived by her sister Roseanne (Tom) Judd, five daughters Shawn, Bridget (Steve), Molly, Annie (Al) Webster, Katie; six grandchildren Maggie (Scott) Bourne, Joe Davidson, Anna and Emma Weaver, Hannah and John Webster, and two great grandchildren, Virginia and Bridget Bourne. A mass and celebration will be held to honor her life in Lincoln in December. Details are forthcoming.

Her life of 87 years was filled with family, adventure, children, travel, friendships, compassion, and activism. Spending her adult years from 1957 to 2009 in Lincoln, she raised five daughters, with John McCullough. She enthusiastically campaigned, rallied, and organized husband John's judicial campaign in 1960 while also caring for her young family. She was constantly busy. In addition to her family life, she passionately followed the Apollo moon race, taught French to 2nd graders after school, held numerous nighttime lectures to her 5 'captive' daughters on the constellations in the Lincoln College ball field, authored the Hale-Bopp Herald (a monthly newsletter on the famous 1997 comet visit), and led a 4-H club. Kathy filled her home with family friends and children for no-bridge bridge club, weight loss club, skits for Ozark vacations, Saturday night happy hours, Kentucky Derby parties, and countless other children's birthday parties and events. Upon retirement she took full advantage of the Elder Hostel trips going to the Apollo Space Camp, Polar Bear Camp, and working on sailing ship in the Puget Sound! She also successfully fought to add girls' sports to the high school, was elected to the high school board of education, worked in the Lincoln College Finance Department for 10 years and her last job, where she served as the administrator for 5 central Illinois counties with JTPA (Job Training Placement Act) to find jobs for the unemployed.

Becoming a foster parent at age 55, she provided a home, friendship, parental guidance, and love to Vietnamese boys through Catholic Relief Services. Phuong, Hai, Tri, Binnie, Truyen, Thi (Kevin), Binh, Hien, their eventual spouses and children were an immense source of love and friendship in her later years.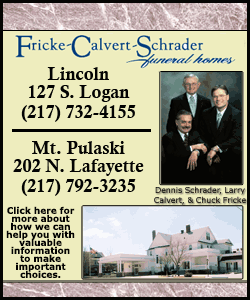 Mom taught English, helped them achieve their GED's, found grants for college attendance, earned their acceptance at trade schools, and found homes and neighborhoods to settle down and raise their families in America.
If any child needed help whether it was driving somewhere or a financial or emotional crisis, Mom was there. Phuong married Myhanh, also a foster child in Lincoln and with daughter LeAnne they cared for mom in retirement, taking her to church, to Carroll Catholic School athletic games, preparing Sunday dinners, fixing household issues and being her first caretaker in the Alzheimer's journey.
Another important person in mom's life is Pema Chosang, who was a pen pal from a Tibetan camp in Southern India introduced through the Christian Children's Fund. Pema, age 10 and mom, age 60 became fast friends 10,000 miles and cultures away in 1991. Mom's support to Pema included completing nurse's degree in India at age 19. There was an eventual joyous meeting in with Pema's move to Colorado and a visit with mom in Lincoln, in 2006.

Kathy's final years were spent in Copper Ridge Nursing home near Bridget and Shawn, where she became loved and cared for by staff, volunteers, and other families. She communicated through twinkling eyes, frowning faces, a tap on the backend, or a big smile and nod.

She was courageous to the end, going on her own terms, and leaving behind a world of thankful and grateful friends. She was deeply loved and will be greatly missed.

Donations may be given in her memory to:
Catholic Relief Services
https://www.crs.org/
or Logan County Humane Society
https://hslclincoln.org/