Five-run first carries Red Sox past Cubs

Send a link to a friend Share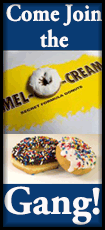 [April 29, 2017] BOSTON -- High drama at Fenway Park.

In April.

"It was a great atmosphere tonight," Boston manager John Farrell said after Craig Kimbrel struck out Addison Russell with the tying run on second, ending the game with his third strikeout of the inning as the Red Sox held on for a 5-4 interleague victory over the Chicago Cubs on Friday night.

"The buildup to this weekend kind of speaks for itself," Farrell said. "But given the way that game went, they're chipping away, getting their way back into this ballgame. Two strikeouts -- he's facing the heart of that order, which is explosive ... just a great atmosphere for it being a game in late April. Craig was outstanding."

The slumbering Red Sox erupted for five runs off Jake Arrieta in the first inning and didn't score again in a game that contained 24 hits, 24 strikeouts, three homers and all kinds of excitement.

On a night that featured the return to Boston of Chicago general manager Theo Epstein and former Red Sox pitchers Jon Lester, John Lackey and Koji Uehara, rookie Andrew Benintendi homered to start the five-run assault against Arrieta (3-1).

Arrieta, who took a no-hitter into the eighth inning of his last start at Fenway, in 2014, lasted 4 1/3 innings and saw his 10-game April winning streak snapped.

Kris Bryant homered off winner Drew Pomeranz (2-1) in the first and Albert Almora hit another in the third. The Boston bullpen, a bit of a mix and match with Tyler Thornburg and Carson Smith hurt and Matt Barnes suspended, patched things together over the final three innings.
While Kimbrel pitched around Ben Zobrist's two-out double, another hero out of the pen was left-hander Fernando Abad. Earlier in the day, the Red Sox (12-10) surprised some people by sending Robbie Ross Jr. to the minors and keeping Abad. All Abad did was strike out out two straight hitter to end the eighth with two men on.

"Two key strikeouts at a pivotal point in the game," Farrell said.

And then came Kimbrel.

"Kimbrel has been Craig," Farrell said. "He's been overpowering. Great stuff."

Kimbrel struck out Bryant and Anthony Rizzo before Zobrist's two-strike double. Then, with the rival fans, including a large Cubs contingent, trying to outscream each other, Kimbrel blew Russell away as the Cubs fell to 12-10.

"How many times have you seen that game this year? We've played that game almost every night," Cubs manager Joe Maddon said. "Once we start getting that big hit, it's going to turn in a good way. Continue to play until the last out once again.

"I've said this several times already this year, Jake had a hard time early, settled in, got through it. Our bullpen was outstanding. We did a lot of really good things tonight, some really good at-bats, but we came up one out short."

It was the second straight start that saw Arrieta allow at least four runs in the first inning, a career first for the right-hander.

[to top of second column]
Cubs second baseman Ben Zobrist (18) hits an RBI single during the seventh inning against the Boston Red Sox at Fenway Park. Mandatory Credit: Bob DeChiara-USA TODAY Sports
Pomeranz struck out seven in his second win in his last three starts.

"Pomeranz did a great job with (the lead) -- he took the ball and ran," said Boston's Mitch Moreland, who doubled home a run and scored in the first. "Kind of carried us the rest of the way. The bullpen came in and stepped up for us and it was a good win."

Boston had scored 13 runs and been shut out three times in the previous seven games before scoring the five in the first.

The Red Sox came in 5-for-44 with runners in scoring position and with only seven first-inning runs this season. Both were quickly taken care of as the home team came through on its first four chances with runners in scoring position in the first.

Boston went 0-for-6 in clutch spots after that. The Cubs stranded nine, going 1-for-11 with runners in scoring position.

"None of this double-digit left-on-base stuff," Maddon said. "We've got to start moving runners across the plate. We've got them out there and the right guys coming up, but we're not doing that with any consistency."

NOTES: The Red Sox recalled RHP Ben Wright and activated utility man Chase d'Arnaud and optioned LHP Robbie Ross Jr. and OF/1B Steve Selsky to Triple-A Pawtucket. ... Former Red Sox LHP Jon Lester visited with several ex-teammates on the field before the game. He and former GM Theo Epstein, the architect of both storied franchises finally winning a World Series, met the media. Lester brought out the Cubs lineup card and he and RHP Koji Uehara received a video tribute in the second inning. ... Former Boston RHP John Lackey, also part of the video tribute, goes for Chicago against RHP Steven Wright Saturday, both trying to overcome shaky starts to 2017. ... Red Sox INF/OF Brock Holt, on the disabled list with vertigo, started a rehab at Pawtucket. ... Cubs pitching coach Chris Bosio is missing the series for a personal matter. ... Ex-Red Sox and Cubs P Ryan Dempster threw out the first pitch. ... Fans can pose for pictures of World Series trophies of both teams before Sunday night's game.
[© 2017 Thomson Reuters. All rights reserved.]
Copyright 2017 Reuters. All rights reserved. This material may not be published, broadcast, rewritten or redistributed.