April
Use "CTRL" + click to open in new window
April 4
Together, LCHS students make big impact in lives of children with medical needs
Congratulations to the students of Lincoln Community High School who make up the 2017-18 RailerThon.

These students had a goal to raise $15,000 this year and they exceeded that goal by a long shot. Saturday they presented HSHS St. John's Children's Hospital with a check for $25,000.
April 5
Tropics Sign Restoration Nearly Complete
Much progress has been made in restoring the Tropics neon sign over the past several months. Almost a year ago, on Tuesday, June 27, 2017, the sign was moved from Lincoln to Springfield. The craftsmen at ACE Sign Company then began working to bring it back to life, including Joe Bringuet, one of the company's original owners who actually serviced the sign when it was located on site at the Tropics restaurant. Joe helped not only with painting the lettering on the restored sign, he also provided guidance to the younger workers at ACE who were not so familiar with signs that use real neon tube lighting.
Restoration of the Tropics neon sign is nearly completed and plans are being made for a grand re-lighting event scheduled for Saturday, June 16, 2018.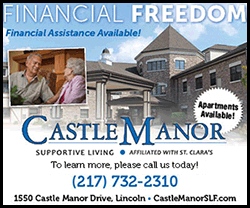 April 9
Lincoln aldermen take the plunge with Dock Dogs
At the Monday, April 2nd meeting of the Lincoln City Council aldermen agreed to provide $4,000 to assist in the financing to bring a new event to the annual Pigs & Swigs Festival to be held the first weekend in June.

Dock Dogs is a very popular event for dog owners and their pets, which includes a variety of competitions where the dogs dive into a pool of water. The competitions include retrieving what is thrown into the pool with distance measured for their jumps into the pool. There are also competition for "big air" and more.
April 12
Mount Pulaski City Council decides to table the decision regarding Mayor James Cole
The fate of Mount Pulaski Mayor James Cole will have to wait. While Cole was not in attendance at the regular Tuesday night city council meeting, he released a letter dated April 10, 2018, stating, "With the allegations being made toward me, although I don't agree, for the best interest of the City Government to conduct the public's business I tender my resignation to take effect immediately with the following stipulation, no legal action on the allegations being leveled at me."
Atlanta citizens attend township meeting to protect their way of life and preserve their history
At Tuesday night's monthly Atlanta Township meeting there were two agenda items that drew a significant crowd. The township board meetings are usually sparsely attended by the public, but on Tuesday night more than 80 people came out at the Atlanta Park District Community Center to voice their opinions.

Both agenda items concerned the disposition of the Atlanta Cemetery District. Prior to 2016 the Atlanta Cemetery District was owned and maintained by a private concern, the Atlanta Ladies Cemetery Association. That organization recognized that they were running out of money, and turned the ownership and the maintenance of the 20 acre Atlanta cemetery over to the Atlanta Township in 2016, along with approximately $133,000 in the perpetual maintenance fund for upkeep. According to Illinois State law, the private organization could not access the funds in the perpetual maintenance fund, but the Atlanta Township could.
Lincoln College Announces New Academic Affairs Vice-President
Dr. Hamin Shabazz Will Lead College's Academic Departments
A former police officer who rose from being a G.E.D. recipient to becoming the Dean of the College of Education and Professional Studies at Sul Ross State University has been selected to become the next Vice President of Academic Affairs at Lincoln College.
Heartland Community College brings work ready medical program to Lincoln
Heartland Community College is offering a new program in Lincoln to equip students with "work ready" training in the growing field of health care.

Heartland's Phlebotomy Technician Program prepares students for employment throughout the health care system. Phlebotomists draw blood from patients for testing purposes and are employed at doctor's offices, hospitals, neighborhood health care centers, HMOs, insurance carriers and other health care settings.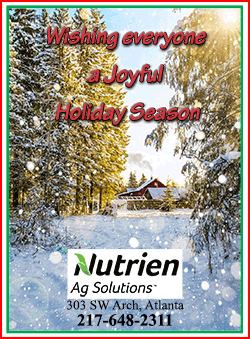 April 13
Eagle and nest spotted near Lincoln Cracker Barrel - Album
Another wonderful sign of spring, the Eagle is nesting. This lady was spotted just off Interstate 55 near the Cracker Barrel in Lincoln by Bob Elshoff of Crawford, Murphy and Tilly Engineers. Elshoff is well-acquainted with LDN photographer/reporter Curtis Fox and gave Fox a call. Fox in response visited the sight and was just lucky enough to be there when the eagle was tending the nest. A second, empty nest was also spotted just to the north on I-155 near the Hartsburg exit.

Kudos to Elshoff and Fox both for their "eagle eye" in spotting the nest and the beautiful bird.
April 16
City to vote on monthly billing of sewer and garbage
At the Monday night voting session of the Lincoln City Council, three agenda items are expected to be voted on that will have an impact on the monthly sewer and garbage billings for Lincoln constituents.
April 18
Ribbon Cutting services return to Logan County
When someone invests the time, energy, and money into opening a new business or renovating and expanding an existing business, it is something they have worked hard for and are proud of when they finish. It is a time when they want the community to know what they have accomplished and to come to join them in celebrating that accomplishment.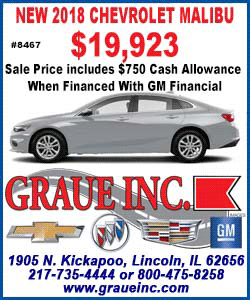 For many years a traditional Chamber of Commerce Ribbon Cut was one way that we as a community could come together and support that new or expanding business and join in their celebration. With the dissolution of the Lincoln/Logan County Chamber of Commerce in late 2017, Logan County has seen a decline in ribbon cuts because there was no one who was available to facilitate such an event.
After careful consideration, and a lot of discussion between the owners, advertising, and content staff at Lincoln Daily News, the paper has decided that it is in the best interest of the community if someone steps up and takes the reins on ribbon cuts. Often times we sit and say "someone should do this." But when it comes to being the one who says "I will do this," we tend to step back. LDN staff and its owners have decided that we can be that "I will do this" entity.

Lincoln College Mens Volleyball Claims NCVF DII National Championship
The Lincoln College Men's Volleyball A team completed their season-long mission on Saturday by winning the 2018 National Club Volleyball Federation (NCVF) DII National Championship.
April 19
Mount Pulaski town meeting draws a crowd on water issues
The city of Mount Pulaski held an informational town meeting on Tuesday, April 17, 2018 to address the community's water issue.

Several concerned citizens turned out at the Family Life Center to listen to a panel discussion led by Mount Pulaski City Council members Matt Bobell, Aaron Palmquist and Andrew Neaville. Superintendent of Water and Sewer Matt Presswood was also on hand to discuss the information presented.

Lincoln College says 'Game On' with NAIA
College approved to join four-year athletic association
Lincoln College celebrated its long-anticipated acceptance into the National Association of Intercollegiate Athletes (NAIA) with a "Game On" rally Wednesday, April 18. The rally featured coaches, student athletes, pep talks from Lincoln College President David Gerlach and Athletic Director Mark Perdue and special recognition of the men's volleyball team, which captured the national championship April 14 in St. Louis.
April 23
Spring Clean-up Day in Lincoln results in a lot less trash laying along city roadways
Volunteers gather in Latham Park - slideshow
Hi-Ho! Hi-Ho! It's off to work they go! - slideshow
Lunch in the park a great reward for a huge effort - slideshow
On Saturday morning more than 125 people gathered in Latham Park to start out a day of cleaning up city right-of-ways and ditches. The group worked from 9 a.m. to 11 a.m. and gathered up more than 175 bags of trash.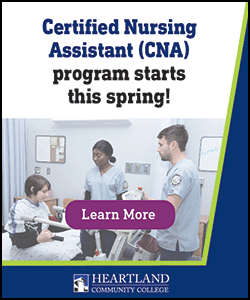 April 24
Emily Bucy and Abby Coers represent Logan County at the 122nd Boston Marathon
Two young women from Logan County, who had no idea each other was in Boston last week, ran the 2018 Boston Marathon and they finished the race just a minute and a few odd seconds apart from each other.

If you think that's coincidental, how about this information: they both grew up in rural areas, they both graduated from the same high school and same college AND they both pursued careers in agriculture. A major difference though is one works for the company that sells the "green tractors" and the other one works for the company that sells the "red tractors."

Meet Emily (Allspach) Bucy and Abby Coers, if you will.
Abby Coers recounts her wonderfully miserable day at the Boston Marathon
A first-hand account of the race as recorded by Abby Coers.
Woke up at 6am on Marathon Monday, posted on Instagram about how ready I was to run the Boston Marathon today and text back a couple friends who sent messages about the race. Getting out of bed I peaked out the window to see a dreary day, but it didn't look like rain (it was raining although I didn't see it). I knew I was going to make this race mine, semi-chilly day, a little rain, eh this may actually be a great day for a 26.2 mile run..I thought.
April 25
Amazing downtown attic find yields Lincoln's earliest history
Donath shares treasures from the Shew Collection - Album
Paper treasures give a glimpse at Lincoln businesses in the 1890's
Album
Life can be full of pleasant surprises. During the monthly meeting of the Logan County Genealogical and Historical Society, historian Bill Donath told the society about one that occurred to him recently.

Mark Shew from the recently closed MKS Jewelry store on the square in Lincoln stopped by last September to tell Bill that while cleaning out the space for a new owner, a small room had been discovered that was boarded up. When it was opened, there was a pile of what looked like old newspapers. Shew wanted to know if the LCGHS wanted this seeming pile of dirty trash.
April 27
Mount Pulaski City Council discusses mayoral and water issues
The Mount Pulaski City Council met on Tuesday, April 24, 2018 and discussed many items on the agenda. Primarily of importance were those issues involving the now former Mayor Jim Cole and the city's water issues.

With Mayor Pro Tem Darrell Knauer absent, and new City Attorney Jordan Klein present, Joyce Maxheimer served as the mayor pro tem for the evening.

After review of the usual business matters, Mayor Pro Tem Maxheimer said, "Okay we move on to the mayor's resignation."

There was a moment of unplanned silence.
April 30
Lincoln's singer/song-writer Alexa Redd greets the world today with her CD "Right Time"
Sixteen year-old Alexa Redd from right here in Lincoln, Illinois, is releasing her new music worldwide today. It is available on digital download right now at iTunes, Spotify, and over 150 places on the internet that teens know where to find music.
[LDN archives]