August
Use "CTRL" + click to open in new window
August 2
Kroger to Close Store in Lincoln
Kroger's Central Division announced today the decision to close its store at 1475 Woodlawn Road in Lincoln, Illinois. Company leaders attribute the decision to ongoing poor financial performance. Kroger has long monitored operations, hoping the store could return to profitability; however, recent evaluations suggest such improvement is no longer realistic. So, with the lease expiring, the store will cease operations by the end of this month.
August 4
Governor signs bill creating Illinois Route 66 Centennial Commission
Appointees will develop plans for a 2026 celebration of famed historic route
Governor Bruce Rauner has signed legislation creating the Illinois Route 66 Centennial Commission.

The commission will develop plans for celebrating the famous road's 100th anniversary in 2026.
August 9
Rauner appoints Rep. Tim Butler as new co-chair of Illinois Bicentennial Commission
Governor Bruce Rauner announced he has appointed Illinois Rep. Tim Butler to serve as co-chair of the Illinois Bicentennial Commission. Butler joins fellow co-chairs Gloria Castillo and Lori Healey.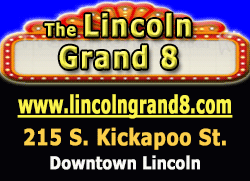 August 10
Community celebrates Rodeway Inn in Atlanta - Album
On Tuesday, July 31st, a large group of friends, family, church family and Atlanta business representatives gathered at the Rodeway Inn in Atlanta to celebrate a milestone with the Holkar family that owns the motel long known as the Atlanta Route 66 Motel.

A ribbon cut was held to celebrate joining the family of Choice Motels.
Three Generations Healthcare Network facilities in central Illinois earn national honors
A federal contractor tasked with helping skilled nursing facilities around the country improve their results has placed three central-Illinois buildings in its top-10-percent list.
When Telligen – a health management firm that works with the Centers for Medicare & Medicaid Services and the Department of Health and Human Services – released its latest "honor roll," Generations at McKinley Place, Generations at McKinley Court and Generations at Lincoln each made the cut.
August 11
Logan County Community comes together on Purple Heart Day
Tuesday August 7th was Purple Heart Day across the country. It was a day to acknowledge and remember the sacrifices of soldiers in all military branches who were wounded or lost their lives from wounds received in military battle.
In Lincoln, a Purple Heart Ceremony was held at the All Veteran's Park on Union Street. The day included laying a purple heart-shaped wreath at the monument in honor and remembrance.
August 13
Logan County Briefs: November ballot initiative to make county a second amendment sanctuary
Solar Farms and Gardens Ordinance
During the Logan County Board's Regular meeting in July several matters were voted on, one regarding a citizen's right to bear arms and another on future alternative energy sources.

County citizens to vote in November on state gun law

Executive and Personnel Committee Chairperson Emily Davenport brought forward four motions, one on the position of the county regarding State gun law.

Board members discussed language for an Advisory Referendum to be placed on the November 6th, 2018, General Election ballot for a Firearms Sanctuary Resolution.
August 14
Christian Lowry Named LCU's Director of Athletics
Lincoln Christian University (LCU) and President Dr. Don Green are excited to announce the promotion of Christian Lowry to the position of Director of Athletics (AD). Lowry, a graduate of LCU, has been promoted to the helm of the LCU Athletic Department after serving as the Athletic Coordinator for the last three years. He will replace Nathaniel Smith, who, after serving two years as the Director of Athletics at LCU, has accepted a positon in the athletic department at the University of Northern Iowa.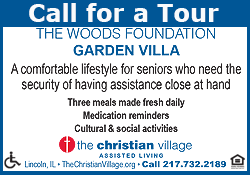 August 17
Fitness Court Grand Opening Ribbon Cut and Launch Party enjoys a tremendous turnout
Fitness Court sees lots of interest on Opening Day - slideshow
Crowds surround court to see demonstrations and first fitness challenge - slideshow
Thursday morning a massive crowd arrived at the new city of Lincoln/Abraham Lincoln Memorial Hospital Fitness Court for the grand opening ribbon cut and launch party.
August 18
Opioid Task Force learns details of new Noxalone tracking program
The Abraham Lincoln Memorial Hospital Community Health Collaborative Opioid Task Force met on Thursday August 8th. The meeting was an opportunity for the various subgroups within the task force to offer updates on the work they are doing to deter the use of opioid based drugs within Logan County.

The task force is utilizing a four pillar approach that includes but is not limed to prevention, education and treatment.

During the meeting the group heard from task force member Lincoln Fire Chief Mark Miller regarding a new program he is utilizing to track the usage of Noxalone or Narcan within the county.
August 21
Lincoln City Hall changes: New part time person to be hired for City Clerk's office
Privacy wall to be built in the former zoning office
On Monday evening, Lincoln aldermen agreed to hire a new part time person to work at City Hall in the City Clerk's Office

The decision came after discussions over recent weeks concerning the work load at the City Clerk's Office since switching sewerage billing from quarterly to monthly.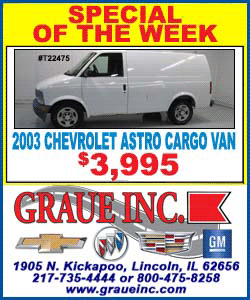 August 22
Lincoln asked to make a commitment for Fifth Street Road Project next year
Monday evening, Lincoln aldermen spent the better part of the first hour of their council meeting discussing issues pertaining to the Fifth Street Road Project. On hand to take part in that discussion were Logan County Engineer Bret Aukamp, Chris Isbell with the Illinois Department of Transportation, Julie Ship with Hanson Engineering and Stan Hansen with Crawford Murphy and Tilly (CMT).
Bruce and Cindy Stacy say goodbye to workaday and hello to retirement
Local pharmacy to close for good at 6 p.m. this evening
At 6 p.m. this evening Bruce and Cindy Stacy will turn out the lights and lock the doors at Stacy's Family Pharmacy. This effectively brings to end one chapter of their lives and starts another simply titled 'Retirement.'
August 23
Caleb Coogan Memorial Playground dedicated at Mount Pulaski Grade School
On Sunday, August 19, 2018, a nice crowd gathered at the south end of the Mount Pulaski Grade School property to dedicate the school playground in memory of Caleb Coogan. Caleb was a sixth grade student at MPGS when he was killed in an ATV accident on September 6, 2017.
Search finally over for new Logan County Supervisor of Assessments
The pressing need to find a new Logan County Supervisor of Assessments has at last been resolved.

The Logan County Board had a difficult time finding the right person to replace Supervisor of Assessments Denise Martinek, who completed her duties at the end of her term.
Statement by Lincoln Police Chief Paul Adams regarding cautionary lockdown at Lincoln Junior High School Wednesday
Wednesday, August 22nd 12:54 p.m. Lincoln Police were requested to the 300 block of Sixth Street in reference to a domestic battery.
Officers arrived and began their investigation to learn that the suspect had left on foot and was in the area.
Officers located the 24 year old suspect coming from Lincoln Junior High School.

Habitat for Humanity of Logan County forced to discontinue electronics recycling program
Will continue to accept aluminum and scrap metal
Habitat for Humanity of Logan County (HFHLC) has been informed by the company that collects all the recycled materials that they no longer will service Lincoln, Illinois. This announcement means that all electronics and other materials normally accepted on the 2nd Saturday each month at the HFHLC warehouse is effective immediately.
August 24
St. Clara's passes the keys to Fifth Street facility to Lincoln College
On Wednesday morning, history changed in Lincoln as the legacy of St. Clara's Manor and St. Clara's Hospital came to an end on Fifth Street in Lincoln. But the end of an era marked a new beginning, a new era and a legacy that will grow in the coming years.
August 25
Board approves purchase of 12 new vehicles and new radios for Sheriff's Department
At the Logan County Regular Board meeting Tuesday, August 21, the board voted on the purchase of 12 new squad cars and new radios for the Sheriff's Office.
Darin LaHood holds quarterly Veteran's Affairs Committee meeting in Lincoln
Logan County Arts turns boarded windows into a framework for beautiful art in downtown Lincoln - slideshow
On Saturday, August 18th the Logan County Veterans Assistance Commission hosted the quarterly meeting of United States Congressman Darin LaHood's Veteran Affairs Committee. Local VAC Director Dan Benedict sat at the head table with LaHood and was joined by LaHood's Veteran Advisors Mike Gilmore and Retired Colonel Dave Leckrone.
August 27
Governor Rauner makes stop at the Mill on Route 66 during Annual Governor's Motorcycle Ride
Rauner leads Route 66 motorcycle ride
Bicentennial Plaza dedication for Constitution Day
Governor's annual Route 66 Motorcycle Ride - Rauner and a few hundred friends stop by the Mill on Route 66 in Lincoln - slideshow
Governor's annual Route 66 Motorcycle Ride - Mill enjoys hundreds of visitors...and shoppers - slideshow
Illinois Governor Bruce Rauner smiled for the camera (pic top right) alongside Geoff Ladd, Assistant Director of the Illinois Route 66 Scenic Byway and founder of the local Route 66 Heritage Foundation. The occasion was the Governor's Annual Motorcycle Ride on Route 66, and his scheduled stop at the Mill on Route 66 Museum in Lincoln.
August 28
Hartem's Anna Hayes - Living that volleyball dream
Commits to the University of Memphis
It has been a busy summer for Hartem volleyball standout Anna Hayes. She made a trip to Memphis, Tennessee back in May with her mom, Jennifer, just as the summer was beginning to kick in. While a stop at Graceland was a given for these Elvis fans, a visit to the University of Memphis was on their agenda as well. What transpired out of that visit to Memphis is something that is off the charts impressive.
August 29
Gordmans coming to Lincoln
Online applications being taken now
Job Fair scheduled for September 21st
Gordmans, a retailer that has been delighting guests for more than 100 years with bigger brands and smaller prices on trend-right merchandise, is now hiring for its new store in Lincoln, Illinois. The new store is scheduled to open in November, just in time for the holiday shopping season.
[LDN archives]