December
Use "CTRL" + click to open in new window
December 1
Former President George H.W. Bush dead at 94
Former U.S. President George H.W. Bush, who presided over the end of the Cold War and routed Saddam Hussein's Iraqi army but lost a chance for a second term after breaking a no-new-taxes pledge, died on Friday at the age of 94.
December 3
Emden Community Christmas - Lapsed tradition returns warm memories for future generations
Emden community welcomes Christmas with the return of a community tradition - slideshow
Saturday, December 1, Emden held its first Community Christmas. The event was organized by the Women's Auxiliary, American Legion, and Sons of the American Legion and is planned to be held annually.
Severe weather conditions don't stop Christmas celebrations in New Holland
New Holland Christmas Parade honors a dear friend lost - slideshow
Santa weathers the storm to visit children in New Holland - slideshow
On Saturday evening, Mother Nature delivered some cruel blows in central Illinois. With a confirmed 18 tornados across our region, folks were on high alert from mid-afternoon to early evening. But, the weather didn't turn out to be quite as terrible in Logan County as other nearby counties, and activities on the schedule for Saturday evening did go on as planned.
Newly elected Logan County officials and board members sworn into office
Logan County Board chooses Emily Davenport as chairman, Scott Schaffenacker vice-chairman
On Monday, December 3rd, six members of the Logan County Board and three elected officials were sworn into office at a morning ceremony in the Logan County Courthouse.

Five of the board members were re-elected in the November election. The board also has one newly elected member.
December 5
Warm hearts on a chilly night at Light up a Life
On Tuesday evening the Abraham Lincoln Memorial Hospital Foundation hosted its annual Light Up a Life ceremony outside on the Woods Patio at the hospital.
Student Penny Drive Raises $4,000 to 'Save the Flag'
Logan County Students Raised Money for Lincoln Artifact
As Illinois celebrates its bicentennial, the Lincoln Heritage Museum at Lincoln College announced that students and community members raised more than $4,000 to help restore an historic flag associated with Logan County and Abraham Lincoln's first presidential campaign, during a recently completed school Penny Drive.

Students from 10 Logan County schools took part in the drive, collecting pennies that will be used to help restore the Middletown Flag, a hand-stitched campaign flag made by the ladies of Middletown, Illinois, during the 1860 presidential election. The student fundraising effort received two local matching pledges which helped boost the total to just over $4,000.
To commemorate 200th birthday, Northwest Fourth grade students perform state song
In honor of the 200th birthday of the state of Illinois the Fourth grade students at Northwest School in Lincoln have been studying about our state.

In celebration of the 200th birthday of Illinois the students in Mrs. Elsas and Mrs. Dietrich's classes learned the state song.
December 6
Lincoln approves plan to remodel Waste Treatment Plant laboratory
At the Monday night meeting of the Lincoln City Council, aldermen approved a plan to remodel the laboratory building at the city's waste treatment plant for a cost of $520,000. This was one of three options offered to the aldermen by Crawford Murphy and Tilly at the November 27th Committee of the Whole.
Elaine Aue selected as the Grand Marshal for 2018 Lincoln Parade
The 2018 Downtown Lincoln Christmas Parade Grand Marshal is Elaine Aue.

Elaine is the owner/manager of the local Culver's Family Restaurant. Since the opening of the restaurant, Elaine has used her business to help support many community efforts including our local schools as well as other organizations such as Toys for Tots, The St. John United Church of Christ Mission Projects that have included coats for kids and Narcan Kits for our Lincoln Police Department.
Santa makes early appearance at Lincoln Public Library - Album
Look who was under the Christmas tree, at the Lincoln Public Library, all merry and bright! Santa Claus!

Santa made an appearance at the library on December 4th, 2018 around 5:30 and stayed to take photos and hear requests until about 7p.m.
December 7
Statement from the Lincoln Police Department
Officer involved accident Thursday evening
On Thursday, December 6th at 6:10 p.m., while closing the streets for the 2018 Christmas Parade, Lincoln Police Officer Chad Eimer was struck by a vehicle as he was walking across the street at the intersection of Broadway Street and Chicago Street.
December 8
Lincoln Christmas Parade fills the night with 'Christmas Magic'
Crowds gather for the annual event - slideshow
Walkers and riders a plenty at the annual parade - slideshow
This year's parade features some really wonderful entries - slideshow
"Christmas Magic" includes Gingerbread and Santa Claus - slideshow
After the parade, Lincoln Depot makes a great spot for a Santa stop! - slideshow
Big, Small, Short or Tall Santa loves the all! - slideshow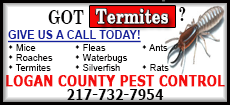 On Thursday evening the Logan County Tourism Bureau hosted the annual Downtown Lincoln Christmas Parade. The weather was somewhat cooperative in that the snow from earlier in the day had stopped and it wasn't windy. But BRRR….it was cold! With the temperatures hovering below freezing there were no bands in this year's parade, but that didn't make the quality of the show any less wonderful.
2018 Girls Seventh Grade Class 1A Basketball State Championship:
West Lincoln-Broadwell State Champions with 52-20 win over Ottawa Wallace
Froebe breaks eight records in Seventh Grade Girls Basketball State Championship Tournament
These Lady Wolverines of West Lincoln-Broadwell are a special group of athletes and they are coached by one of the best basketball coaches in the state. (As indicated recently by the selection of Kari Froebe to serve as the head coach of the Central squad in the upcoming All-State Junior High Classic). Froebe, in her tenth year coaching the Lady Wolverines, has currently guided her teams to five state championships, a runner-up finish and one third place finish. This year she coached her daughter, Kloe, to the third seventh grade state championship in a row and saw her own daughter and the team re-write the IESA record books.
Mount Pulaski takes third in 28-25 win over Annawan
The Mount Pulaski Honeybears defeated the Annawan Braves 28-25 to earn the third place trophy in the 2018 seventh Grade Class 1A State Tournament on Thursday night in Assumption.
December 10
Lincoln Heritage Museum holds annual Pearl Harbor Day remembrance
On Friday at noon, the Lincoln Heritage Museum at Lincoln College hosted its annual Pearl Harbor Day observance in the atrium. Museum Director Anne Moseley served as the master of ceremonies for the event. She opened the day welcoming all guests to the observance.
Podbelsek Family Creations celebrates first year anniversary
On Saturday morning Podbelsek Family Creations hosted an open house in celebration of their one-year anniversary in Lincoln. In conjunction with the open house, Lincoln Daily News hosted a ribbon cutting ceremony for the store as well.
December 11
Sugar Creek Wind Farm project asks Logan County assistance in utilities easement snag
On Wednesday, December 5, the Logan County Board Planning and Zoning Committee held its monthly meeting. One focus of discussion was a condition of approval for the Sugar Creek Wind Farm Project.
Saturday cookies and fruit sales say Christmas is near - Album
On Saturday, cookies and fruit were in abundant supply in the early part of the day at the Lincoln Christian Church and Graue Chevrolet. At the church, the annual Christmas Cookie Walk started out with two very long rows of tables filled with various cookies made by members of the church. Within two hours, those long lines had been reduced to short lines as shoppers rushed to get the widest variety early. The cookie walk is held annually as part of ongoing fundraisers for Harvest of Talents, a ministry that feeds the hungry around the world and in Lincoln.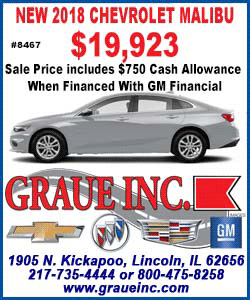 December 12
HIF sponsors West Lincoln-Broadwell students Mars Mission at Challenger Learning Center
Field trip offers hands on learning in a space-age environment - Album
Students take over Mission Control and participate in astronaut experiments - Album
The West Lincoln-Broadwell School sixth grade science class traveled to the Challenger Learning Center on the campus of Heartland Community College in Normal Thursday morning. The twenty students were accompanied by their science teacher Barbara Bowlby and mathematics teacher Val Mammen.
December 13
Logan 4-H member attends National 4-H Congress
Thirteen teens from Illinois attended a five-day national conference in Atlanta, Ga. Nov. 23 – 27 including Logan County 4-H member, Abi Steffens of Lincoln, daughter of Jason & Beth Steffens and a member of the Chester 4-H Club. Abi received a trip in the Project Mastery Award area. Illinois delegates to National 4-H Congress are selected on their outstanding 4-H accomplishments, said Lisa Diaz, University of Illinois Extension assistant dean and director of Illinois 4-H.
Heartland Community College adds new healthcare program
Medical Assistant program begins Fall 2019
Heartland Community College is adding a new program to meet the growing demand for healthcare-related professionals.

Heartland's Health and Human Services Division will be offering a Medical Assistant program beginning in the Fall 2019 semester.
December 14
Lincoln aldermen examine availability of liquor licenses, gaming and impacts
On Tuesday evening the Lincoln City Council spent quite a bit of time discussing what to do about the number of liquor licenses available for issuance within the city. At issue is whether or not there should be changes and increases in available licenses, and the impact video gaming establishments have in the city.

The topic has been ongoing since early this fall. In September the owners of Apollo Mart in Lincoln, as well as Greg (Haji) Patel came to the city to request that there be additional liquor licenses added to the city code. Both business owners were seeking a license specifically so they could add video gaming.
Local veterans among those honored at Bicentennial Gala - Album
On December 3rd two Logan County Veterans were part of the 200th Birthday Celebration Gala for the state. The gala was held at Navy Pier in Chicago. During the evening the program included a time of recognition for 200 of the state's notable veterans.
Lincoln College Athletics to Add Esports
Lincoln College Athletic Director Mark Perdue has announced that the department will add the collaborative online gaming activity known as esports as an officially sponsored club sport for the 2019-2020 season.
Lady Wolverines defeat Ottawa Wallace 46-10 in back-to-back Eighth Grade Basketball State Championships
WLB ends the season a perfect 24-0 over Ottawa Wallace 28-1
West Lincoln Broadwell Eighth Grade Girls Basketball Team and Kloe Froebe break half IESA records
The Lady Wolverines have done it again. In pretty much a repeat from last week, WLB knocked off an undefeated Ottawa Wallace team in the state championship game. This time the setting was the Clinton Junior High School gymnasium and the final score was 46-10.
December 17
Christmas cheer delivered by Lincoln Emblem Club - Album
Every year Lincoln Emblem Club delivers food baskets to seniors, veterans and families that need a little extra help this time of year.

This year's committee chairman for the Christmas Food Basket give-away, Rachel A. Lessen said, "We are delivering to 114 seniors/families!"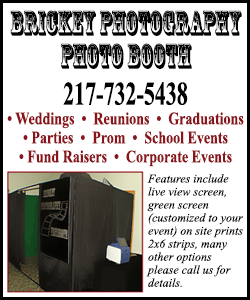 HSLC cookie sale for shelter animals daily care - Album
On Saturday shoppers enjoyed an opportunity to grab up some wonderful baked goods at the annual Humane Society of Logan County Cookie Sale.

Orders were taken in advance of the sale day and the HSLC had several dozen cookies ready for those who had placed those pre-orders.
December 19
Lincoln aldermen vote no increase to property tax levy for 2019
At the Monday night regular meeting of the Lincoln City Council, aldermen voted to keep the property tax levy for the 2018 billing year level. This tax levy for 2018 will impact the property tax billed to Lincoln property owners in 2019.
Lady Railers 1998-99 fourth place team reunites on the court
Members of the 1998-99 Lady Railers Basketball Team got together on Saturday afternoon for a game/reunion on the court at Roy S. Anderson Gymnasium. This is the team that finished the season with a fourth place finish at the Class AA State Tournament at Redbird Arena in Normal. Everyone from that team was present on Saturday for the reunion on the court, except for Heidi Graff.
December 20
Five seats for Lincoln City Council to be filled by four new aldermen come May 1st
No candidate for Ward 4
This week the deadlines for filing under the republican, democrat, or independent ticket have passed in the city of Lincoln.

On Tuesday morning City Clerk Peggy Bateman shared that in the Lincoln City Council five seats are up for election and four of the sitting aldermen of those seats will not seek office in 2019.
Lincoln College hosts the inaugural All-State Junior High Classic for Girls
All-State Junior High Girls Basketball Classic - overall results - Pdf
Some of Illinois' best junior high girls basketball players ascended on Lincoln over the weekend to participate in the All-State Junior High Classic. Nearly 140 girls from all over the state of Illinois spent Saturday and Sunday in Lincoln. They participated in skills competitions and practices in gym all across town on Saturday before playing between four to five games on the campus of Lincoln College in the Old Gym and in Lincoln Center on Sunday. The championship game was at 7 p.m. on Sunday night.
December 21
Illinois Supreme Court appoints Jonathan Wright as Circuit Judge in Eleventh Judicial Circuit
Justice Rita B. Garman and the Illinois Supreme Court have announced the appointment of Jonathan C. Wright as a resident Circuit Judge in the Eleventh Judicial Circuit.

Mr. Wright is being appointed to fill the vacancy created by the election of Justice Thomas M. Harris to the Fourth District Appellate Court as of December 3, 2018.
Sugar Creek Wind Farm agreement with Logan County modified to resolve pipeline issue
At the Logan County Board meeting on Tuesday, December 18th, one focus of discussion was an amendment to one of the conditions at the Sugar Creek Wind Farm Project.
Atlanta Ag 4-H Club shops for Angel Tree - Album
The Atlanta Ag 4-H group recently spent some time Christmas shopping for others. The members took an afternoon to shop for gifts for a local Angel Tree. Afterward they gathered back at their meeting location to get all those great gifts wrapped up and ready for delivery.

The event served as a great way to help those less fortunate within the community but also offered benefits to the membership. As they shopped they they put into practice their skills learned in the Consumer Education program.
December 22
Apex Clean Energy Announces Sale of 202 MW Sugar Creek Wind
Liberty Power Moves Ahead with 202 MW Sugar Creek Wind Project
Apex Clean Energy today announced the sale of Sugar Creek Wind to a wholly owned subsidiary of Algonquin Power & Utilities Corp. The advanced-stage 202 MW project is located in Logan County in central Illinois. This fall, Apex secured a long-term contract with the Illinois Power Agency to provide renewable energy certificates to utilities in the state.

Illinois State Police with assistance from Lincoln Police Department arrest suspect for engaging in sex acts with a minor
Texas man arrested after leaving minor child on the highway near Lincoln
Illinois State Police (ISP) Investigations with assistance from the Lincoln Police Department have arrested Javier J. Joiner, 24, of Arlington Texas, for the offense of traveling across state lines to meet a minor, and production of child pornography.
December 27
Federal Government Shutdown impacts local FSA
Farm Service Agency Offices will close until further notice at the end of the day December 28th
During a government shutdown, agencies that have funds appropriated in prior years that are carried forward can continue to serve customers until that money is used up. As a result, FSA county offices will be remain open through Friday, December 28.