February 2018
Use "CTRL" + click to open in new window
February 1
Downtown Lincoln gains new addition
Under new ownership Old 2 New Thrift to become 'The Hanger" resale
The Hanger along with the Witz End Boutique will celebrate their grand opening on March 3rd 2018 at 616 Broadway Street in Lincoln, IL historic downtown.
February 5
Lincoln Junior High School Poms Team headed to State competition
The Lincoln Junior High School Poms Team is headed to the Illinois Drill Team Association (IDTA) State competition. Ten young ladies from Lincoln Junior High School make up the Trojanettes Poms Team and they successfully competed over the weekend and earned a shot at advancing to state competition to be held this Saturday in Springfield at the BOS Center (formerly the Prairie Capital Convention Center).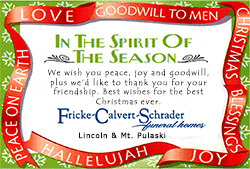 February 6
Local authorities, schools, and public organizations adopt the "iloveuguys" standard response protocol
Schools and organizations throughout Logan County are now using the "iloveuguys" Foundation Standard Response Protocol in dealing with hazardous or dangerous situations at or near schools and other public locations.
February 7
Mount Pulaski students and families have a blast hosting the Costa Rican students
Part 1: The Ticos return to town
Part 2: Exchange experience more than just language
It was January 5, 2018 when a group of seven Costa Rican students ~ the Ticos ~ landed in Illinois. The Ticos were here to begin their 10-day stay with students from Mount Pulaski High School.
February 9
Lincoln College expands Accelerated Bridge to Education program to Lincoln Campus
Open House Feb. 22 will introduce ABE program to local residents
Lincoln College will expand its highly successful Accelerated Bridge to Education (ABE) program for adult learners to the Lincoln campus beginning this summer. To kick off the new program, an open house has been set for Thursday, Feb. 22, in Lincoln Center Room 128A from 6-7:30 p.m.
February 15
St. Clara's residents enjoy sweetheart day with move to new residence
Wednesday was Valentine's Day, a sweet day for many, but for the staff and residents at St. Clara's Rehab and Senior Care the day was made all the more special. After what seemed like a very long wait the residents of the Fifth Street facility were moved to their new home, the new St. Clara's on Lincoln's west side.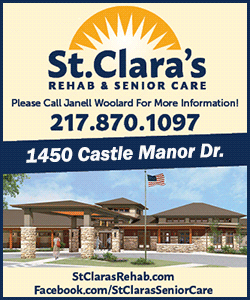 February 15
Lincolnite Kirby Rodgers honored
For the next two weekends, Lincolnite Kirby Rodgers will be very busy being involved in something he absolutely loves. Rodgers will travel to Champaign this weekend, and Bloomington on the following weekend to be a referee for the Illinois State Wrestling meet.
February 23
Hilltopper expected to start construction in April
On Tuesday, February 20, the Logan County Board held its regular monthly meeting, voting on several motions. The focus of discussion was whether to approve the HillTopper Wind Farm Project Road Use Agreement and Patrick Engineering's recommendation of the review of Swift Current Energy's Decommissioning Plan Proposal.
Welsh Tournament brings crowds to our city and fun for families to our local gymnasiums
This past weekend, the city of Lincoln was filled to the brim with basketball players and fans. Coming from throughout the state and beyond, more than 170 teams participated in this year's John Welsh Memorial Trojan Basketball Tournament.
Tournament play
Lincoln Junior High School & Lincoln Park District - slideshow
Central & Zion Lutheran Schools - slideshow
On the sidelines
Family, Fun and Food - slideshow

February 28
From a father's perspective
A Basketball Journey comes to an end
By Greg Taylor
And just like that, it's over. In a blink and without apology, it's over. That, my friends, is life and the world of High School basketball. The game gives so much – enjoyment, excitement, and achievement – and then it's over. So during "the days after" the Mount Pulaski High School boys basketball season ended – much sooner than so many hoped it would – this hoops dad has some reflections, memories and takeaways I don't want to keep to myself.
[LDN archives]