July
Use "CTRL" + click to open in new window
July 2
Logan County citizens rally "Families belong together" on courthouse steps
Saturday was designated "Families Belong Together Day" across the United States. Seven hundred communities held demonstrations opposing the recent decision to separate children from their parents who crossed the southern border of the United States seeking asylum. Lincoln was one of those communities in central Illinois holding a rally along with Bloomington, Springfield, and Champaign.
July 3
Leading Preservation Group Invites Public to Get Its Kicks on Route 66 with Campaign to Secure Federal Historic Designation
Iconic highway named a 'National Treasure'
On Monday, the National Trust for Historic Preservation named Route 66 to its National Treasures portfolio and announced plans to pursue National Historic Trail status for one of "America's 11 Most Endangered Historic Places." The centerpiece of the campaign is a month-long road trip to help preserve the "Main Street of America." During the road trip, the organization will share the stories of historic sites along Route 66 and build support for the National Historic Trail designation.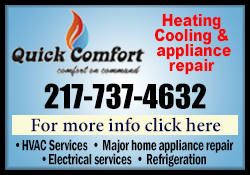 July 5
Small but very patriotic group takes part in Lincoln's Fourth of July Children's Walking Parade
Let Freedom Ring - Children's Walking Parade participants - slideshow
Let Freedom Ring - From the park to the park district - slideshow
Let Freedom Ring - Best of the fireworks - slideshow
Let Freedom Ring - fireworks - a grand Grand Finale' - slideshow
On Wednesday morning, the return of the Lincoln Children's Walking Parade was very well received by a small but patriotic group of children. Kids decorated their bikes, parents decorated strollers and wagons, and all set off on the traditional trek from the south side of Scully Park in Lincoln to the Lincoln Park District Recreational Center.
July 6
Logan County Highway Department secures funding for Sugar Creek bridge work
The Logan County Highway Department has been awarded $857,000 from IDOT's Major Bridge Program. The funding will be used to repair the Sugar Creek overflow bridge on 100th Avenue located about 1 ˝ miles south of New Holland. Construction will be planned for 2022.
Communities embracing Route 66 'The Mother Road' offer tourists quirky fun and receive back
One of the most important tourist destinations in Logan County, the most frequented, isn't a building or a statute or a museum. It is the road itself that brings the tourists, the most famous highway in the world, Route 66. The Mother Road holds untold potential that deserves preserving. That is the conclusion of local, state and national tourism and government officials.
Abraham Lincoln Memorial Hospital Foundation Awards $80,000 in Healthcare Career Scholarships
The Abraham Lincoln Memorial Hospital Foundation board has named four recipients of the 2018 Healthcare Career Scholarship. David Curry, Lindsey Goodwin, Katie Hunsley all of Lincoln and Hannah Freer of Mount Pulaski were selected as recipients after a rigorous application process that included three rounds of interviews with members of the ALMH leadership team and foundation directors. Each student will receive $20,000 to help fund their pursuit of a degree. The award includes an agreement to work at Abraham Lincoln Memorial Hospital (ALMH) in Lincoln following graduation.
July 7
City fires up new drug incinerator
On Friday morning, the Lincoln Police Department fired up its new drug incinerator for the first time, burning over 100 pounds of expired and unwanted drugs that have been turned in to the department since the first of the year.
July 9
Lincoln hosts 194 "accidental tourists" - Album
Passengers of Texas Eagle stranded
Lincoln played host to 194 visitors Saturday afternoon, but they were not here of their own choice. The Amtrak Texas Eagle that travels from San Antonio to Chicago usually arrives in Lincoln around 11 a.m. on Saturdays. This week it was four hours late, arriving at 2:45 p.m., and when it went to depart the Lincoln depot to resume the journey to Chicago the engine died.

The passengers were stranded.
July 10

Veolia North America enlarges scope of operations
Will assume oversight of the Lincoln Waste Water Treatment Plant
Veolia North America announced today that it has acquired from American Water Works Company, Inc., the rights to 23 of its water treatment and energy service contracts. The transaction will expand the core municipal water business of Veolia, which is among the top providers of water and wastewater treatment services in the U.S. and Canada, and will see Veolia welcome 110 new employees to its North American operations.
July 12
Plane makes forced landing on Interstate-55
Illinois State Police crash report
At about 2:30 p.m. on Wednesday, July 11 a small plane force-landed approximately one mile north of the Logan County Airport on Interstate 55 near Kruger Elevator.

The plane made contact with a car, but the pilot then veered the aircraft off the Interstate to get away from traffic.
A strong candidate for city administrator gets council talking
After an hour of regular business at the Tuesday night Lincoln City Council Committee of the Whole, aldermen went into executive session for the purpose of discussing personnel.

While the discussions taking place in executive session are not for publication, the after conversations made it clear that aldermen had discussed filling the position of city administrator with a specific candidate.
WHOW signs on new signal in Lincoln
The Miller Media Group's Kaskaskia Broadcasting, Incorporated, today (Wednesday) signed on its new FM signal at 106-point-5 in Lincoln, to bring WHOW's news, agriculture, and talk programming to Logan County 24 hours a day.
LC Inks Deal with Adidas; Gears Up for NAIA Debut
Lincoln College's first-year Athletic Director Mark Perdue has been busy this summer in preparation for leading the LC Athletics Department into its inaugural season of competition as a member of the National Association of Intercollegiate Athletics (NAIA). Perdue's top priorities during the off-season have included helping his coaches build competitive schedules, entering the department into a uniform & equipment contract with a major athletics dealer, and the launching of a new athletics website.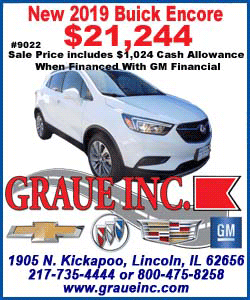 July 13
Community celebrates new police station for the city of Lincoln

On Wednesday evening a large crowd gathered for the ribbon cutting ceremony and open house at the new Lincoln Police Station. The station is in the former Jefferson School building located in the 700 block of Fifth Street.
July 14
County receives funding for county-wide guardrail upgrades
The Logan County Highway Department has been awarded up to $1,000,000 from IDOT's Highway Safety Improvement Program. The funding will be used to replace guardrail and terminals along various County Highways in Logan County. Construction will be planned for 2020.
New name for Crop Production Services: Nutrien Ag Solutions
As of July 1, 2018, Nutrien Ag Solutions is the new name for the previously branded Crop Production Services retail business.
July 16
Atlanta adds restored centennial carriage house to collection of days-gone-by historic buildings

Atlanta adds restored centennial carriage house to collection of days-gone-by historic buildings - Album

Atlanta held an open house Sunday afternoon for the latest addition to the historic buildings at the site of the J.H. Hawes Grain Elevator. The John Pendelton Hieronymus Carriage House is one of the last carriage houses in Atlanta that served households during the horse and buggy days.
July 18
Waste Treatment Plant management contract change of ownership should not impact Lincoln
At The Monday evening voting session of the Lincoln City Council, Waste Treatment Plant Manager Tim Ferguson was asked by Alderman Ron Keller to explain the change of ownership with American Water Company and possible impact on the city's management contract.
July 19
Career railroad employee recalls passenger conductor experiences as most unforgettable
Dale Jenkins related his encounter with the old adage "Be careful what you wish for, you just might get it." Jenkins was speaking to members of the Logan County Genealogical and Historical Society attending the monthly meeting last Monday evening.
July 20
Hilltopper Wind Farm construction causes issues

On Tuesday, July 17, the Logan County Board held its regular board meeting voting on several motions and hearing a few committee updates. One focus of discussion was some problems with the Hilltopper Wind Farm project.

At the Board Workshop on Thursday, July 12, Logan County Highway Engineer Bret Aukamp said there have been some roadway issues with the Hilltopper Wind Farm project near Mount Pulaski causing some damage on Highway 9.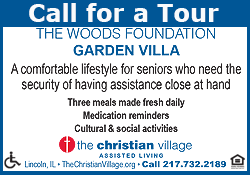 July 23
Logan County Supervisor of Assessments position remains unfilled
On Tuesday, July 17, the Logan County Board held its Regular monthly meeting. One focus of discussion was the Supervisor of Assessments position.

The position opened after Denise Martinek recently announced her decision not to seek reappointment. On June 28, the board interviewed two candidates for the Supervisor of Assessment position in an executive session. At the July 10 Finance Committee meeting, committee members went into executive session to discuss the merits of the candidates.
July 21
Significant CEL School Board vote next Tuesday

At the upcoming board meeting on July 24, the Chester-East Lincoln Board of Education will be voting on a significant resolution to change how board members get elected. Current bylaws dictate that CEL can only have three board members per township (an election type called 'congressional'). CEL Administrator Laura Irwin said, "We can have less but not more," in board members per township. The congressional model ensures that no township is over-represented.
July 25
Hartsburg man joins State Bank of Lincoln staff

Dirk Conrady has joined State Bank of Lincoln as a loan officer, according to an announcement by bank president Steve Aughenbaugh.

Dirk Conrady, son of Rick & Mary Conrady is from Hartsburg. He graduated in May, 2018 from Illinois State University with a bachelor's degree in agri-business.
July 26
Lincoln aldermen seek public opinion on train whistle 'Quiet Zone'

At Lincoln City Council's Tuesday night Committee of the Whole aldermen discussed whether or not it is in the best interest of Lincoln residents to apply for a "quiet zone" for the city. The quiet zone would pertain to the railroad crossings used by Amtrak and Union Pacific, running north to south through the city.

The establishment of the quiet zone would impact how trains utilize their horns when passing through a total of seven crossings in the city.
July 27
One new component added to the Lincoln Welcome Garden and another on the way!
At noon on Thursday, Rick and Leslie Hoefle delivered a new mural to the Lincoln Welcome Garden. The mural which was hung on the back side of the large Welcome sign was then installed by Rick with help from daughter Lauren Sutton, Richard Smith, and Lincoln Alderman Ron Fleshman.
July 30
Habitat breaks ground on home build no. 24
On a soggy Sunday afternoon, people stood shoulder to shoulder under a single tent on Sixth Street in Lincoln. They were there on a cool rainy day to celebrate a ground breaking ceremony for Habitat for Humanity of Logan County.
[LDN archives]