May
Use "CTRL" + click to open in new window
May 1
Sunday afternoon open house marks one year anniversary of the Mill on Route 66 Museum
After more than a decade of hard work and dedication from the members of the Route 66 Heritage Foundation, last year on Saturday, April 29th, 2017, the Mill on Route 66 Museum opened to the public.

This year, on Sunday, April 29th, the Mill celebrated the completion of its first year as a bona fide museum and the beginning of its second tourist season with an open house event.
May 2
Elkhart Veterans' Park Awarded Grant
The Village of Elkhart Veterans' Park renovation project has been awarded a Landmarks Illinois World War I Monument Preservation Grant for World War I monuments/memorials that are in need of conservation, repair, stabilization or other restoration treatment.
May 4
Building and commercial solar development ordinances pass Logan County Regional Planning Commission
On Wednesday, May 2, the Logan County Regional Planning Commission heard a report from Logan County Zoning Officer Will D'Andrea. Several Logan County Zoning Ordinance Amendments will be brought to the Zoning Board of Appeals at a public hearing this evening, Thursday, May 3.
LLCEO students showcase businesses at annual tradeshow
On Wednesday evening, nine talented and intelligent young people, all either juniors or seniors from local high schools, participated in a small business tradeshow held at the American Legion. The activity was the final stage of their school-year-long participation in the Lincoln Land Creating Entrepreneurial Opportunities program.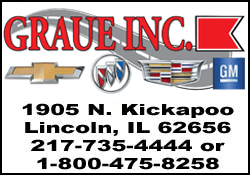 May 5
HillTopper Wind Farm Construction to begin
Project includes $10 million in road improvements
Initial construction of the HillTopper wind farm is underway. 74 wind turbines will be constructed to the south and west of Mount Pulaski. The construction will also include work on the public roadways.

Over 30 miles of roadways will be improved. The project will include 58 cross-road culverts and over 9 miles of asphalt resurfacing. More than $10M of improvements will be made to the local roadways.
May 9

Business community welcomes new ownership of Renew Consignment and Thrift
On Monday evening a ribbon cutting ceremony was held in honor of the new owners of Renew Consignment and Thrift, located at 201 South Sangamon Street in Lincoln.

ZBA review of building and commercial solar development ordinances to go before the Logan County Board with no recommendation on building standards revision
On Thursday, May 3, the Logan County Zoning Board of Appeals held a public hearing to consider several zoning ordinance amendments. The sections being amended or added to included building standards, tiny homes, and a solar ordinance.
May 11
Lincoln College Receives Environmental Grant
Only College to Receive Funding for Conservation Projects
Lincoln College has been awarded a $3,645 environmental grant for watershed awareness from Illinois American Water. Lincoln College was one of nine initiatives to receive grant funding and the only college to receive funding.
May 12
Lincoln Station Renovation Named "Project of the Year"
The Illinois Department of Transportation announced today that the Illinois chapter of the American Public Works Association has recognized the renovation of the historic passenger rail depot in Lincoln as its "Project of the Year."
May 14
ALMH Market enjoys a very busy opening day
Season opener starts with a ribbon cut - slideshow
Market offers plenty of buying opportunities - slideshow
Fun, food, and entertainment top of the day - slideshow
On Saturday morning the Abraham Lincoln Memorial Hospital Market kicked off its third season in Lincoln with a ribbon cut. The cut was followed by the 8 a.m. ringing of the bell telling shoppers that it was time to come inside and take advantage of all the market has to offer.
Cassidy Clark is a State Track and Field Champion and oh, she's a runner-up too
Cassidy Clark represented Mount Pulaski Grade School at the IESA Class A State Track and Field Meet in East Peoria on Friday and in true thrilling Clark fashion the eighth grade standout track and field athlete won first place in the shot put AND later in the day she placed second in the discus. What an amazing feat!
May 16
Eaton Community Involvement Team presents checks to local organizations
On May 7, representatives from the Eaton Lincoln Plant met at Lincoln City Hall to view and inspect the Building generator that was donated.
Peter Pan a big treat for the audience - Album
The cast of Peter Pan presents a gift to Kim Peterson-Quinn, their instructor and director at Lincoln Community High School at the end of the play this past weekend. The play was a very ambitious undertaking for the students that included special riggings so that the title character and others could take flight across the stage. Over the four days the play was offered the work of the students paid off tremendously and crowds thrilled at the theatrics.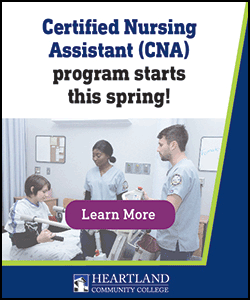 May 17
Logan County Board approves salaries for the treasurer, county clerk, and sheriff after much discussion
On Tuesday, May 15, the Logan County Board held its monthly meeting voting on several motions. One focus of discussion was salaries for the treasurer, county clerk, and sheriff.

City may vote to NOT hire a new city administrator
After quite a bit of debate on Tuesday evening, Lincoln aldermen agreed to place a motion on the Monday night voting session that would, if passed, verify that the city will not be hiring a full time city administrator in the foreseeable future.
Congratulations to Neil Alexander and Kari Froebe for their Coach of the Year honors by the IBCA
Lincoln is very blessed to have a number of terrific coaches in the community who care about the student athletes they are building. None rank higher than legendary Railers Basketball Coach Neil Alexander and the modern day Wonder Woman, Coach Kari Froebe of West Lincoln-Broadwell basketball fame.
Abe gets his summer shade - Album
Summer is near and tourism season is starting. On Wednesday the crew at Brad Matthews Construction returned the cover to the Railsplitter Covered Wagon in Lincoln. The World's Largest Covered Wagon is a big draw for travelers passing through Lincoln on Route 66.
May 18
Logan County Tourism Bureau approaches Lincoln with proposal for new "Welcome Garden"
On Tuesday evening, Logan County Tourism Director Cris Wibben and Tourism Assistant Morgan Gleason presented a proposal to Lincoln aldermen for a new "Welcome Garden."

The idea of the garden came up at the April Tourism meeting when it was proposed by Leslie Hoefle. Hoefle talked to the bureau about adding a downtown attraction that would go along with the "quirky" style of many Route 66 attractions, and also pay homage to Logan County in general.
May 19
Illinois American Water presents check to Lincoln College's Creekside

Illinois American Water presented Lincoln College with an environmental grant for $3,645. The amount granted was the full amount requested by the college through the company's environmental grant program.
May 22
NH-M students showcased at State Capitol
New Holland-Middletown Elementary District 88 students were selected to showcase their technology skills at TECH 2018 at the Illinois State Capitol building on May 10. The two students, Gracie Jones and Lucas Melton, represented their school in the rotunda by displaying how they had incorporated Robotics into Reading.
100 Cities/100 Memorials Designates Elkhart Doughboy "WWI Centennial Memorial"
The 100 Cities/100 Memorials program has announced that the Village of Elkhart's Veterans' Park Doughboy statue is being honored with the official national designation as a "WW1 Centennial Memorial." 100 memorials in 100 cities in 37 different states have been designated and will receive a matching grant towards the restoration, conservation and maintenance of local historical treasures. The program is sponsored by the US World War One Centennial Commission and the Pritzker Military Museum & Library with support from the American Legion and Veterans of Foreign Wars.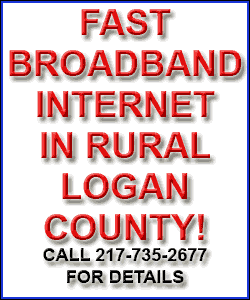 May 23
City cancels vote on city administrator position
At the Monday evening meeting of the Lincoln City Council there was no vote taken on whether or not to hire a new city administrator.

The reason was the position of city administrator is an appointed position by the sitting mayor.

On Monday evening, Mayor Seth Goodman said that because this was an appointed position, the council did not need to vote, he would state that at this time, there will be no appointment to the currently vacant position.
May 29
Lincoln College Adds Two New Majors for Fall 2018
Liberal Arts and Organizational Leadership Degrees Offered at Lincoln Campus
Lincoln College has added two new bachelor's degree options to its growing list of four-year degree majors at the Lincoln campus.

Beginning in the fall, students will now be offered majors in Organizational Leadership and in Liberal Arts, in addition to the 10 majors already available in Lincoln.
Mount Pulaski's Peyton Taylor finishes track and field career a State Champion
From valedictorian one Saturday to state champion the next, 2018 MPHS graduate Peyton Taylor is having quite the week. Taylor finished his high school track and field career on top Saturday as the no. 1 discus thrower at the Class 1A Track and Field State Meet in Charleston.
May 31
CEFCU celebrates 30 years in the Logan County Community
On Friday, May 25th the CEFCU Member Center held a day-long open house in celebration of 30 years of service to the Lincoln and Logan County Community. The Citizens Equity First Credit Union came to Lincoln in 1988 taking over the former Logan County Credit Union and moving into a facility of Fifth Street.
Gerlach Honored by State University of New York Canton
Lincoln College President Receives Distinguished Alumni Award
Lincoln College President David Gerlach is one of two persons honored by the SUNY (State University of New York) Canton's Alumni Association June 1. The organization is bestowing its annual Distinguished Alumni award on Gerlach and Anne Coloton Williams, former assistant to the vice president for advancement and a 1978 graduate.
[LDN archives]