November
Use "CTRL" + click to open in new window
November 1
Friendship Manor residents and guests enjoy a Halloween luncheon - Album
On Halloween day, Friendship Manor in Lincoln hosted its annual costume party and luncheon. Residents enjoyed dressing up in their alter egos and vying to see who had the best costume of the group.
Gordmans hosts grand opening ribbon cut for new store in Lincoln
On Thursday morning several were in attendance for the first day of business at the new Gordmans store on the city's west side. The store, located in the former Goody's building, opened on Wednesday but on Thursday held a ribbon cutting to kick off the Grand Opening weekend for the store.
LaHood and Sanguinetti make campaign stops in Lincoln
On Thursday evening United States Representative for the Illinois 18th District, Darin LaHood made a campaign stop in Lincoln. LaHood hosted a meet and greet at the new Sorrento's Restaurant in the heart of the city.

Lincoln College Adding Men's and Women's Bowling for 2019-20
Candace Van Bogaert Will Coach New NAIA Sport
Lincoln College Athletic Director Mark Perdue announced today that Lincoln College will add men's and women's bowling as a team sport for students entering for the 2019-20 academic year.

Recruitment for the 2019 team will begin immediately.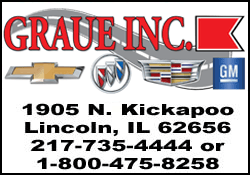 November 6
What's new and exciting in the Mount Pulaski School District
MPHS named one of America's Best High Schools
Educators and Support Staff for the 2017-18 school year
Today is the day residents in the Mount Pulaski School District have the opportunity to vote for the improvement of their schools. There is a lot of public opinion on the issue and the discussions to clear up any misconceptions have been made available time after time to those willing to take part. Tours of the over 100-year-old high school building have been offered over the course of the last year and concerned citizens in the community have really stepped up to educate others about the much needed improvements to both Mount Pulaski Grade School and Mount Pulaski High School.
November 7
Illinois RiverWatch Network joins Lincoln College in mussel survey
When Dr. Dennis Campbell, Director of Lincoln College's Creekside Center for Environmental Education, recently organized a mussel survey in Sugar Creek, his group was joined by a special guest. In addition to University of Illinois Extension Master Naturalist volunteers, students and local volunteers, the team included Dr. Charlie Blake, Biologist of the Illinois RiverWatch Network.
November 8
Lincoln aldermen approve rate structure for future sewerage billing
On Monday evening, the Lincoln City Council with six members present unanimously approved the formula by which monthly sewer rates will be determined. The new rates and billing are expected to begin at the start of the new year.

The motion was made to approve the formula that takes the last three months of each calendar year's actual water usage for each Illinois American Water customer and establish a monthly average. Using that average the sewer billing will be established for the next 12 months.
Lincoln City Council motion dies on the floor for lack of support
At the Monday night meeting of the Lincoln City Council a motion was brought forward to award the Lincoln Banquet Center $1,500 for space costs for an event being held there.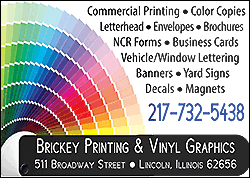 November 9
Christian Child Care renews accreditations and acts to serve urgent community needs
The year 2018 has been an eventful and exciting for Christian Child Care (CCC) for a confluence of reasons. The organization that provides child care for young children has been re-accredited by the National Accreditation Commission (NAC), enrolled several children affected by Little Lambs Learning Center recent closing, continued to partner with Oddfellows, and has made several updates to the old building.
Abraham Lincoln Memorial Hospital gains '4-Star' rating, wins top honors for healthcare excellence
The Illinois Critical Access Hospital Network (ICAHN) recently recognized Abraham Lincoln Memorial Hospital, Lincoln, for its ongoing commitment to exceptional quality of care, during a ceremony held October 29th at the I-Hotel and Conference Center, Champaign.
Farewell Fall Foliage - slideshow
November 10
Five proposed solar garden plans reviewed by Logan County Regional Planning Commission and the Zoning Board of Appeals
On Wednesday, November 7, the Logan County Regional Planning Commission heard from Edgar Lara and Paula Fitzgerald of Novell Energy Solutions about proposals for five different solar garden projects near Laeana Township.
November 12
Eminence Church Veteran Breakfast sees largest crowd ever on Saturday
Veteran's Appreciation Breakfast - slideshow
On Saturday morning Eminence Church in rural Atlanta hosted its annual Veteran Appreciation Breakfast. Each year it seems that the attendance grows and this year was no exception. With more tables and chairs, more food, and more red carnations than ever before, the numbers of those items dwindled quickly as folks arrived to enjoy the special event.
Elkhart Veteran's Park features unique restored World War 1 'Order Arms,' Doughboy
Elkhart Veteran's Park re-dedicated - Album
On Saturday, November 10, Elkhart held a ribbon cutting ceremony to rededicate the Veteran's Park.

After the Pledge of Allegiance and a song by a children's ensemble from Lincoln, Mayor Lyle Fout; Needs and Goals (NAG) President Lois Olson, and Park Project Manager Jan Funk, cut the ribbon to rededicate the park.
November 13
Veteran dinner honors those willing to lay down their lives for our freedoms
St. John's UCC Veteran Appreciation Dinner- slideshow
Unlike Memorial Day, which honors those who died while in military service, Veterans Day gives tribute to all U.S. military veterans.

Veterans, along with family and friends, gathered at the American Legion in Lincoln on Sunday evening for a celebration sponsored by St. John United Church of Christ Veterans Committee and Community Volunteers.
Cronin Brothers VFW hosts annual Veteran Appreciation Day
On Monday morning, Veteran's Day celebrations continued in the area with the annual observance followed by ham and bean lunch hosted by the Cronin Brothers VFW in Lincoln.
Heartland Lincoln Center included in $4.6 Million NSF Grant with ISU, IWU
The National Science Foundation has awarded $4.6 million to a consortium comprised of Illinois Wesleyan University, Illinois State University and Heartland Community College to fund NexSTEM: A Community Assets Program that Fosters the Next Generation of STEM (Science, Technology, Engineering and Math) Leaders.
November 14
Armistice Day celebration at Lincoln Depot enjoys large turnout
On Sunday afternoon a special Armistice Day 100-Year Celebration was held at the Lincoln Depot. The event was hosted by the Logan County Tourism Bureau, the Logan County Veterans Assistance Commission (VAC) and the Military Order of the Purple Heart.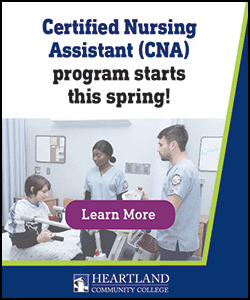 The event was very well attended with an estimated more than 80 people in attendance. Special guest speaker Bill Donath, whose address focused on the First World War, then called the Great War and dubbed the war to end all wars. Later, the Great War would be renamed World War I.
West Lincoln Broadwell hosts Veteran Appreciation Day 2018 - With honor and gratitude we remember
West Lincoln Broadwell School thanked local veterans with a Veteran Appreciation Day on Friday, November 9th, 2018.
Atlanta Ag 4-H hosts special Veterans Day meeting - Album
In observance of Veteran's Day members of the Atlanta Ag 4-H Club held a special patriotic meeting recently. Included in the events of the meeting was a special guest speaker, Marine Veteran Richard Johnson. Johnson shared with the membership a video highlighting his recent trip to Washington D.C. with the Honor Flight program. Members participated in other Veteran's Day activities and also learned how to properly fold the American Flag.
Eagles Veterans Benefit sees good turnout
The ninth annual Veterans Benefit hosted by Lincoln Eagles Post #2708 turned out well. A schnitzel sandwich dinner was held on Saturday, November 10th in honor of Lincoln veterans. There was a bags tournament, a quarter auction,
and live auction and pool tournament, followed by a 50/50 drawing.
WTIM/WHOW local farm broadcaster Jared White wins award from trade association
Jared White, the local farm broadcaster for Newstalk WTIM AM-FM Taylorville and WHOW AM-FM Clinton, won an award earlier this month at the annual meeting of the National Association of Farm Broadcasting in Kansas City.
November 15
Nine arrested in Lincoln on drug related charges
One still at large
On Tuesday, November 13, 2018, Agents from the Illinois State Police Central Illinois Enforcement Group, Illinois State Police District 9, and Lincoln Police Department conducted an arrest warrant detail for numerous arrest warrants issued by the Logan County Grand Jury in coordination with the Logan County State's Attorney Office. These warrants were issued as a result of numerous drug investigations which have been conducted over a several month time period. The following were arrested during the detail for numerous narcotics charges. Additional arrests are anticipated.
Atlanta podcast salutes Illinois' 200 years - Album
It's hard to miss all of the news that has been floating around this year about the Illinois Bicentennial. Illinois' two-hundredth birthday is December 3, 2018.


One of the most unique celebrations is a road show traveling throughout the state called "Illinois Turns 200" that is sponsored by Illinois Humanities. Atlanta was selected as one of the towns for a stop by the show.
November 16
Adam's preschool classes gain veteran awareness and aviation interest at Logan County Airport's Heritage In Flight Museum
Out beyond the grassy edge of northeast Lincoln, Illinois, the Adam's preschool children took a field trip to Logan County Airport to visit the Heritage In Flight Museum.

The cold Wednesday afternoon just prior to Veteran's Day had invigorating winds that whipped around the museum hangar. Yet, inside the children were oblivious to the weather as each took a turn learning to fly.
November 17
Sorrento's kicks off Grand Opening weekend with a ribbon cut
Lisa and Jim Drew on Friday evening welcomed several guests into Sorrento's Restaurant in Lincoln for the kick-off of a grand opening weekend celebrating the new location of the business.
November 19
Mount Pulaski downtown businesses and organizations reap the benefits of Christmas on Vinegar Hill
Saturday marked the 30th year of the annual Christmas on Vinegar Hill in Mount Pulaski. The long-standing craft and artisan shopping opportunity beings into the small community thousands of visitors each year. Each visitor is there with only a few goals in mind, to find the perfect new Christmas decorations, buy the perfect handmade Christmas gift, and enjoy a day in a sweet, friendly community.
November 20
Corporate and local staff at Bard Optical in Lincoln host ribbon cutting event
On Monday afternoon Bard Optical in Lincoln celebrated its grand re-opening with a ribbon cut. The business recently moved a few doors down from its location of 26 years to reside in a newly remodeled store front immediately next door to the former Kroger store.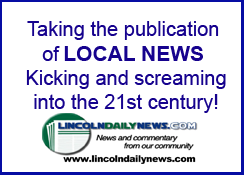 November 21
Logan County Board and Emergency Management Agency recognize citizens with awards for performance, commitment and kindness
At the Logan County Board Workshop on Thursday, November 15, the Logan County Joint Solid Waste Agency (JSWA) Board, a girls fast pitch team and one of its members were recognized.

Several people were also recognized in annual awards presented by the Logan County Emergency Management Agency (EMA).
Lincoln Aldermen hear from Jack Rooney regarding status of Lincoln Theater and other properties owned by MMIL Properties
At the Monday night meeting of the Lincoln City Council the evening began with Jack Rooney addressing the council during the public participation segment. Rooney is the investor/owner of MMIL Entertainment and MMIL Properties, the entity that owns the Lincoln Grand 8 Theater, as well as several other properties in the downtown Lincoln area.
November 26
Logan County Clerk and Recorder Sally Turner, Sheriff Steve Nichols, and board member Gloria Luster recognized for service
At the Logan County Board Regular session held on Tuesday, November 20th, Logan County Clerk and Recorder Sally Turner, Sheriff Steve Nichols, and board member Gloria Luster were honored for their service. The elected position terms end November 30.
November 28
Logan County Board approves five applications for solar gardens
On Tuesday, November 20, the Logan County Board held its Regular Board meeting, voting on several motions and resolutions and hearing a few committee updates. One focus of discussion was the approval of five special use permits for solar gardens at a property near the Cob plant in Mount Pulaski.
November 29
Lincoln aldermen decide new sewerage rate structure
At the Tuesday evening Lincoln City Council Committee of the Whole, aldermen instructed city attorney John Hoblit to draft ordinance documents that would impact 2019 billing structure for city sewerage services. Hoblit would draft an ordinance adopting a new rate structure for sewerage bills. He would also draft a document to repeal the sewerage rate increase of $1 every two years that was previously in place.
Elkhart receives grant from Illinois Humanities for their "Windows Into Our Past: The Village of Elkhart, IL" project
The Village of Elkhart is proud to announce that it received a Forgotten Illinois Artistic interpretation Action Grant from Illinois Humanities to support their "Windows Into Our Past: The Village of Elkhart, IL" project.
[LDN Archives]