SEPTEMBER
Use "CTRL" + click to open in new window
September 1
Dr. Sam Redding honored for 50 years of service in the field of education
This week, Academic Development Institute (ADI) recognized its founder and past Executive Director, Dr. Sam Redding, for 50 years of service in the field of education.
Shady Car Show
Visitors enjoy cool cars in a shady park - slideshow
Hot Rods and Muscle Cars make for a good show - slideshow
Nothing beats a sweet Classic - slideshow
September 5
2018 Superior Young Dairy Producer Award Winners at Illinois State Fair
The 2018 Superior Young Dairy Producer Award (SYDPA) program was held August 18, at the Illinois State Fair.

Twenty 4-H dairy project members from across Illinois took part in the event. The purpose of the contest is to create an educational activity that promotes youth development, career development, and personal growth through increased knowledge of the dairy industry.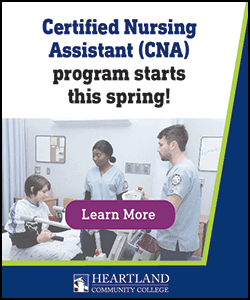 September 6
Jules Flower Shop celebrates one-year anniversary with a ribbon cut and open house
On Wednesday, Julie "Jules' Mason celebrated the first year of business ownership at her store –'Jules Flower Shop' on the historic downtown square in Mount Pulaski. To help commemorate the day the Mount Pulaski Business Association requested a ribbon cut in Jules honor and that cut was conducted by the Lincoln Daily News Ribbon Cut Crew.
BBQ rage from the west 'Ranchers Tri-tip Sandwich' makes debut at Atlanta Fall Festival
Change is coming to the annual BBQ chicken dinner at this year's Atlanta Fall Festival scheduled for September 6, 7 & 8.

Since 1946, the Atlanta United Methodist Church has prepared a meal at the Fall Festival and since 1958 the meal has been BBQ Chicken. Mr. Dick Applegate, now 94, helped organized that original meal and still helps supervise each year.
Illinois 4-H Foundation inducts 2018 Hall of Fame class
Inductees include John and Annie Coers of New Holland
The Illinois 4-H Foundation annually recognizes 4-H volunteers for exemplary service to the Illinois 4-H program. This year, 67 new members were inducted into the Illinois 4-H Hall of Fame during a celebration Tuesday, Aug. 14 at the Illinois State Fair in Springfield. This year celebrated the 14-year anniversary of the award, said Angie Barnard, Illinois 4-H Foundation executive director.
September 7
Chris Coyne State Farm celebrates new office location with a ribbon cut
On Thursday morning, threats of nasty weather may have held back a few people, none-the-less a good crowd gathered for a ribbon cutting at the new Chris Coyne State Farm Insurance offices.
September 8
Kickapoo Creek Park: The big 'Hollow Tree' gets life saving trim
Big hollow tree gets big ole' haircut! - slideshow
There's a well-known tree in Kickapoo Creek Park, 'Hollow Tree.' It is a large American Sycamore positioned halfway around the park just off the main road where it curves to follow the creek.

Typical of a Sycamore's growth habit, this tree's HOLLOW is located at it's base. Children enchanted by the darkened, cozy chamber are seduced to enter and stand inside it, and to test its echo factor.
Lincolnite to compete in Senior Olympics
Power up baby! Who wants to take a challenge and win a medal? Sportsman enthusiast, Mr. Bob Wilson does. He will be participating in the 80 to 84 age division of the Illinois Senior Olympics 2018.
Lincoln College sees surge in local students
Commuter students up nearly 50 percent
Lincoln College is seeing a surge in the number of area students choosing to attend the local college, with commuter student numbers up nearly 50 percent. Commuters rose to 120 this fall from 81 in 2017, Lincoln College President David Gerlach announced.
First Phlebotomy Technician class at Heartland's Lincoln Center sees success
The first "work ready" program at Heartland Community College's new Lincoln Center facility is already showing success.

Lincoln Center's first Phlebotomy Technician class has posted a 100 percent pass rate.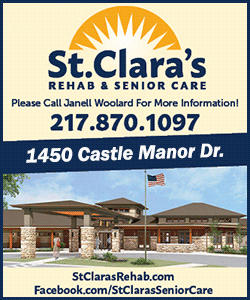 September 11
New Holland Tractor Show wet, but not washed out
Rainy weather makes for a good backdrop for a day of swapping tractor stories - slideshow
Hot ham and beans and a cool cake add to the enjoyment at New Holland Tractor Show - slideshow
When a weather event occurs in the Gulf of Mexico, it is sometimes hard to realize that the event will at some point in time probably have an impact on central Illinois, but it does.

Late last week, the rain that was remnants of Tropical Storm Gordon arrived in central Illinois, and while in parts of Logan County the moisture was much needed, it also caused some difficulties for events that were going on in the area over the weekend.
September 12
Copper Creek honors first responders and dedicates a new flagpole - Album
On Tuesday, September 11th, a special ceremony was held at Copper Creek Cottage Memory Care in Lincoln. The ceremony included a remembrance of September 11, 2001 and the terrorist attack on our country and the subsequent loss of lives including the lives of many first responders in New York as the twin towers of the World Trade Center crumbled to the ground. The day was also an opportunity to dedicate a new flagpole at the facility and hold a special flag raising ceremony.
September 13
Builders would like county zoning permit fees lowered
At the September 5th Logan County Board Planning and Zoning Committee, there was discussion about the amount for zoning permit fees.

Keith and Vicki Hasprey, who started a subdivision in 2003, would like to see the $400 zoning permit fees lowered since houses now have to have inspections that cost an additional few hundred dollars.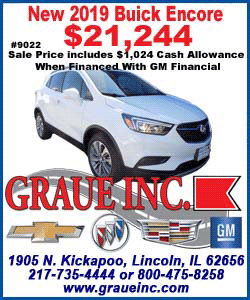 Faith Lutheran Church in Lincoln hosts a joyous 50th Anniversary celebration
A day of joyous celebration - slideshow
A walk through history - slideshow
On Sunday, September 9th, Faith Lutheran Church in Lincoln was full and overflowing with current and past members of the congregation and members of the community on hand to celebrate the church's 50th year.
A Lynx in Berlin
Lincoln College Alum Tony Zurkammer will run in Berlin Marathon
When the runners in the annual Berlin Marathon began their 26-mile, 385-yard journey near the famed Brandenburg Gate on Sept. 16, at least one runner will be sporting Lincoln College Lynx gear.

Tony Zurkammer, a 1990 graduate of Lincoln College, will be competing in the 45th annual marathon Sunday.
September 14
Chalk art to grace the sidewalks in downtown Lincoln for Homecoming - slideshow
September 15
Lincoln Community High School Homecoming Parade
A large crowd comes out for the parade - slideshow
Grand Marshal, Logan County Royalty, High School Royalty, Class floats, & Class of 1968 - slideshow
Local grade schools and colleges well represented - slideshow
Clubs and Organizations - slideshow
September 18
Hilltopper Wind Farm: 16 towers up, some nighttime tower construction to begin
At the Logan County Board Workshop this past Thursday evening, one focus of discussion was the Hilltopper Wind Farm Project in Mount Pulaski.

Logan County Highway Engineer Bret Aukamp provided updates on the progress of the construction processes. He said Hilltopper night work has begun. They are starting to erect towers and need to move forward quickly with setting the tower sections in the evenings.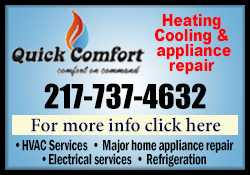 September 19
New signage at Kickapoo Creek Park points the way to the parks hidden treasures
What do David Doolin, creator of Explorelogancounty.com, and Jim Struebing, University of Illinois Extension Master Naturalist, have in common? They are both supporters of Kickapoo Creek Park. That 160-acre mosaic of woods, prairies and parkland is a favorite destination for many Logan County resident. But David and Jim realized that a first-time sightseer might miss a great deal, and even regular visitors may be unfamiliar with some of the park's many hidden treasures. The two decided to create some signage to remedy that situation.
September 20
Logan County Arts offers a glimpse of early 20th Century history through photography
Prints from antique glass negatives offer a glimpse of history - Album
Patrick Moore is a historian. He may not see himself as such, but the gathering of his work on the walls of the Lincoln Art Institute at Thursday evening's opening event for his show certainly attests to that. Patrick has set his life's work at preserving the photographs of Howard Clinton Tibbitts and several other photographers who worked at the turn of the 20th Century. Tibbitts' photo subjects depict a part of America that no longer exists.
September 21
Steffens breaks 11-year-high series record
Shuffle, shuffle, slide; ka-THUNK, rolling rumble, bing bing goes the crack of wooden pins knocking together; that's the familiar sound at Logan Lanes. Bowling has been, and remains a tremendously popular activity that brings all kinds of people together both in competition and for a simple fun time out with family and friends.

County looks for how to reduce fund deficits before it becomes a bigger hurt
Two deputy assessor positions open
At the Regular Logan County Board meeting on Tuesday, September 18, one focus of discussion was the budget deficit and raises for county employees. Finance Committee Chairman David Hepler brought forward several motions.

Hepler made a motion to approve a three percent raise for non-union employees.
September 22
Lincoln College Partners on Renewable Solar Energy Project
Agreement with Clean Energy Design Group Offers Savings, Educational Opportunities
A solar energy generation system is planned to be installed near the Lincoln College baseball and soccer fields, as part of a new renewable energy service agreement between Lincoln College and Clean Energy Design Group, Inc., (CEDG).
Mount Pulaski five-year-old gives lemonade stand proceeds to homeless dogs and cats
While the 90 degree heat squashed the fall mood this weekend, it did yield some positive influence. Sales during the Mount Pulaski Fall Festival were brisk at Norah Burgard's lemonade stand.

Norah's mom, Ashley, helped the five-year-old make her lemonade. Norah's stand was made by her father and it has been used on other occasions as well to raise funds that have gone into her piggy bank.
September 27
Mount Pulaski Volley for the Cause raises $10,125 for Schneider boys
The Mount Pulaski volleyball community has a long history of helping others with the annual "Volley for the Cure" or in this case, "The Volley for the Cause" that took place on Tuesday night. The Lady Toppers, along with the MPHS soccer team and legions of supporters, pulled together and raised a record-setting $10,125 for two students who lost their mother over the summer.

Lincoln College announces three new Trustees
Board members will work closely to move Lincoln College forward
Three new Trustees have been named to the Board of Lincoln College, as the college continues to move forward in its transition to full university status, with plans to add post-graduate degree options to its expanding series of four-year bachelor's degrees.

The new Trustees were approved in May, and will be seated at the Sept. 29, meeting in Lincoln. They are: George "Reed" Eberle, Jr., of Wilmette, Eric D. Graue of Lincoln, and Kathryn M. Harris of Springfield.
Thirty-two new members inducted into National Honor Society at Lincoln Community High School
The Lincoln Community High School Chapter of the National Honor Society (NHS) inducted new members in a ceremony on the evening of Wednesday, September 26th. Thirty-two new members were inducted to the organization. Students are invited to complete an application if they are a junior or senior with a minimum of a 3.5 grade point average. Students then complete an application process and are selected by a faculty committee.
[LDN Archives]