January 2018
Use "CTRL" + click to open in new window
January 3
Kickapoo Creek Park: A wilderness in Logan County
For anyone who enjoys the outdoors and nature, Lincoln has been blessed with a park that meets many outdoor needs. It offers easy, quick access to observe wildlife close up, the opportunity to relax or practice fitness in the outdoors, fish, observe naturalized plants in prairie, savanna or wooded areas, or join with family and friends at a pavilion for a social.
January 4
A bright future for Lincoln College, its students and Lincoln
On Thursday, November 30, Lincoln College held a public meeting to provide updates on the progress towards expanding their mission to better serve the community.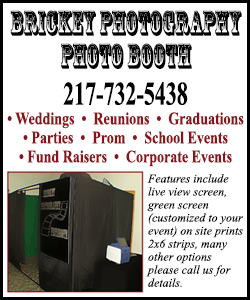 January 5
Lincoln Mayor Seth Goodman looks forward to 2018 with a positive attitude
January 8
Family, Railer Family, and friends celebrate latest honor for Coach Neil Alexander
Even knowing what was coming, Lincoln coach Neil Alexander tried to keep himself out of the spotlight. But, as the Lincoln Community High School administration began the ceremony that would dedicate and name the court at Roy S. Anderson Gymnasium after the beloved and long-time coach, Coach Al found a spot near the end of the Railer bench looking like he would be more comfortable sneaking off back to the locker room than accepting the honor for his years of service at LCHS.
Saturday Night Pre-game Presentation - slideshow

Family, Fans, Friends, and Railers celebrate with Coach Alexander - slideshow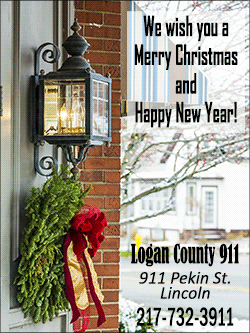 January 11
New Lincoln sewer system to cost $20 million
CMT offers how to pay for it
At the Tuesday night meeting of the Lincoln City Council, aldermen heard a report from Christy Crites and Shannon Brady of Crawford, Murphy, and Tilly on the city's ongoing Long Term Control Plan for the sewer department.
January 15
Logan County family honored with sustainable agriculture award
The Illinois Department of Agriculture has named the Bishop family of PrairiErth Farm in Logan County the winners of the annual R.J. Vollmer Award for Sustainable Agriculture. The award was presented on Thursday afternoon at the Illinois Organic Growers annual meeting.
January 25
Debbie's Downtown Floral opens in Lincoln
When local floral shop owner Bill Bree announced he was going to close his shop and retire, it was a sad day for many of us. While everyone deserves to enjoy retirement and rest after a long career, the thought of not having the lovely Three Roses Flower Shop as a warm friendly place to stop in and shop was heartbreaking.

Well, we can all take heart now, because the shop has re-opened, and inside shoppers will find many of the familiar things from the old store, including the owner, Debbie Theobald.
January 26
Lincoln Police Station construction under way and under budget - Album
On Thursday the sun was shining brightly and though temperatures were below 40 degrees, it felt "mild" for those who were venturing outside.

On Fifth Street there was a bustle of activity at the construction site of the soon to be Lincoln Police Department. Harold Goodman Excavating was working to take out some trees and clear the lot north of the building that will be a parking lot with a large garage when all is finished.
[LDN ARCHIVES]