Community celebrates the new face of Evolve Salon, formerly Hair Plus in Lincoln

Send a link to a friend Share
[January 07, 2019] At noon on Saturday a large crowd gathered at the popular hair salon formerly known as Hair Plus to celebrate the business' re-branding and new name with owner Diana Pickett. Hair Plus is now officially Evolve Salon.
As noted during the ribbon cut on Saturday, the salon has undergone several changes since it opened in 1952. The business is continually changing and evolving to accommodate the new trends in hair and skin care.
The ribbon cut was held outside in front of the business' new signage that features the new Evolve logo. Before the cut, Pickett and her crew gathered along with Pickett's husband Phil to unveil the new signage.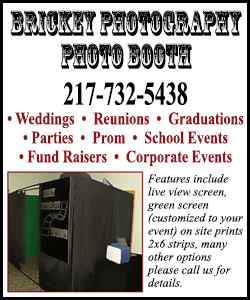 Then everyone gathered around the sign for the official ribbon cut hosted by the Lincoln Daily News ribbon cut crew of Karen Hargis, Roy Logan and Nila Smith.
On hand representing the city of Lincoln was Mayor Pro-Tem Tracy Welch. At the beginning of the ribbon cut, Smith noted that it was good to see a long-term business in Lincoln that is successful and continually changing in order to maintain the quality of services needed by its customers. Welch echoed those sentiments saying that the city is proud to see businesses that succeed in the community and that grow and become stronger. He congratulated Pickett on creating a new face for her business.
Pickett said that as a business owner she has learned the value of community and of being invested in the community on the whole. She spoke briefly about the people who have been beside her in her efforts and remembered her mother Sandy (Hum) Davis who first opened the business in 1952.

Smith noted that it was a second generation business and also that Diana had been involved with the business since she was a young teenager. At the age of 14, Diana began working for and with her mom at the salon, and realized she shared the same passion for the profession as her mother.
Pickett noted that though the business has been in a number of locations, and has undergone a couple of name changes, the commitment to offering quality products and services to the community remains the same.
After the ribbon cut guests were invited inside for a look around. Each person received a gift basket that included information about the salon as well as information bout upcoming promotions and some free samples of products offered by Evolve.

[Nila Smith]