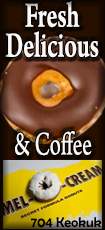 The cut was hosted by the Lincoln Daily News ribbon cut team, with several members of the Lincoln and Logan County community on hand as well as folks representing DeWitt County where Hoblit has a second office.

Many of Hoblit's family members were also present, his mother Mary, Aunt Susan Hoblit, Uncle Jim and Aunt Jackie McKown and Aunt Lynda Orrick.


Lincoln Alderman and Mayor Pro-Tem Tracy Welch was joined by Aldermen Kathy Horn, Kathryn Schmidt and Ron Keller. Also representing the city of Lincoln were City Administrator Beth Kavelman, City Clerk Peggy Bateman with the entire Clerk's Office staff, and Fire Chief Bob Dunovsky. Mary Kelly and Theresa Moore, along with others were there representing the county.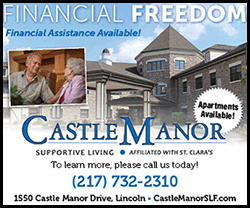 Other supporters included Dr. David Gerlach and Tom McLaughlin with Lincoln College, Kaylee Kirby with the Logan County Tourism Bureau, and Logan County Fair Queen Skye Kretzinger, several other fellow business owner/managers, as well as friends.
Finally, office manager for Hoblit's Clinton office, Lanette Featheree, and members of the DeWitt County State's Attorney's Office were present.

The day began with introductions and a few words concerning Hoblit's arrival in Lincoln. Hoblit is a native to Logan County and during his interview a few weeks ago expressed that for him, establishing an office in Lincoln was a homecoming, and a natural transition back to a place where he knows he belongs.
When called on to speak, Hoblit began by saying thank you for the show of support at the ribbon cut. He said that coming back to Lincoln was a very important accomplishment for him and he hoped to have a long and lasting career in Lincoln. He extended thanks to a number of individuals including Dr. Gerlach on behalf of Lincoln College where Hoblit attended after high school. He acknowledged his staff and also the members of the DeWitt County State's Attorney's Office.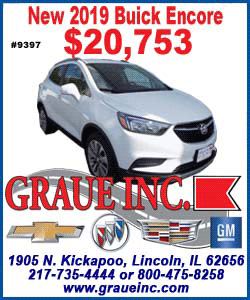 Mary Hoblit was asked to say hello as well. She spoke briefly also issuing thank yous for the turnout and the support the community was showing to her son. She went on to say that she was honored and humbled when her son asked her to assist him in running the Lincoln office, and is hopeful that she will live up to his expectations.

Lincoln Mayor Seth Goodman was unable to attend this week, but sent congratulations to Hoblit. In his stead, Mayor Pro-Tem and Ward One Alderman Tracy Welch spoke.
Welch began by noting that Hoblit has been representing the city since November and has served the city well. He said that from his perspective Hoblit has proven to be conscientious and honest with the council and always working in the best interest of the city.
With the speeches concluded, Hoblit and his guests posed for a formal picture, then the crowd assisted with the countdown of three-two-one-snip.

After a loud round of applause everyone was invited back inside for Alley-Bi cheeseburgers, chips, soft drinks and cookies.

Hoblit said he was pleased with the turnout for the ribbon cut and very much appreciated those who came out to show their support.

Hoblit will continue to maintain office hours in Clinton and Lincoln. His Lincoln office is located at 419 Pulaski Street, Suite B. Office hours are Tuesday and Thursday from 9 a.m. to 4:30 p.m. and Friday from 9 a.m. to noon. He can be reached at 217-605-0030. This phone number accesses both offices, so Hoblit can be reached any day of the week regardless of what office he is working from.

[Nila Smith]