Visitation: 5 p.m. to 6 p.m. on Friday, September 22, 2023 at Holland Barry & Bennett Funeral Home.
Service: Celebration of Life at 6 p.m. Friday at the funeral home
Funeral home: Holland Barry & Bennett Funeral Home
Obituary
John Nealy Hoyt Jr., 71, of Lincoln, passed away September 12, 2023 at Barnes Cancer Center, St. Louis.

Cremation rites have been accorded by Holland Barry & Bennett Funeral Home.

A memorial visitation will be held from 5 p.m. to 6 p.m. on Friday, September 22, 2023 at Holland Barry & Bennett Funeral Home. A celebration of life service will follow at 6 p.m..

John passed away peacefully with family at his side. He lost the battle against cancer but won the victory in Jesus! Praise the Lord!

John was born July 7, 1952, in Lincoln, IL., the son of John Nealy Hoyt Sr. and Glodean (Taylor) Hoyt, missionaries to Zimbabwe, Africa since 1967. His parents preceded him in death in 1998 and 2010 respectively. He was a preacher's kid from birth. He lived in Illinois, Florida, and Kentucky, moving with his parents as they served the Lord Jesus Christ in various ministries in the USA. In 1967, at age 15, John and the family of 5 (a younger sister and brother had been added) moved to Africa. The family would enjoy a remarkable life there for several decades. The mission work was associated with Christian Churches/Church of Christ. John chose to settle in Africa, making that his home, returning to the USA to finish his education at Lincoln Bible College until 1982.

In Zimbabwe he worked as a gun smith and was a hearing aid/audiologist, computer programmer, and part time teacher to the teens.

John met and married Maria Palermo in 1983. They had three children, all born in Africa. He had many wonderful years there raising his family in a unique culture.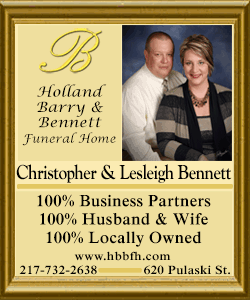 In 2000, John moved his family to Lincoln. He was the pastor of Rutland Christian Church since 2001. John continued with several mission trips until 2010. His greatest passion in life was being a minister and a servant of his Lord and Savior, Jesus.
John owner Guns Galore in Lincoln and enjoyed serving his community and making new acquaintances. He spent his free time building model airplanes and customizing Star Trek and Star Wars spaceships. He was a loyal "Trekkie", was a wiz at computers, and played guitar and loved to sing.

The love of his life was Maria, his loving, supportive, wife of 40 years. He was a devoted grandpa and enjoyed "playing with them". He always had time to lend a helping hand or assist with a need or project. He will be sorely missed by his family and friends. Our loss is Heaven's gain and he longed to make Heaven his home.

John is survived by: his wife Maria; three children: Ryan (Amanda) Hoyt, Nathan Hoyt, and Glodonna (Frank) Trimby; a sister, Deborah Owens and a brother Timothy (Lynne) Hoyt; grandchildren: Isaiah, and Elayna; Airiana and Ryker, Gabriella and Presley; uncle to Shilynne and Taylor.

In lieu of flowers, please make donations to the family in care of Maria Hoyt to help with expenses.
Thank you and God Bless You.
Click here to send a note of condolence to the family of John Nealy Hoyt Jr.