Visitation: 4-6 p.m. Tuesday, November 21, 2023, at Holland Barry & Bennett Funeral Home
Service: 6 p.m. Tuesday at the funeral home
Funeral home: Holland Barry & Bennett Funeral Home
Obituary
Phyllis Mae Bryson, 86, of Mt. Pulaski passed away November 15, 2023, at Vonderleith Living Center.

Visitation will be from 4-6 p.m. Tuesday, November 21, 2023, at Holland Barry & Bennett Funeral Home. Funeral services will follow at 6 p.m..

Phyllis was born December 26, 1936, in Rural Easton, IL., the daughter of Clarence Vaughn and Lula Mae (Kessler) Vaughn. She married William E. "Bill" Bryson in 1978. He preceded her in death in 2017. Phyllis was a Nurse, working at Abraham Lincoln Memorial Hospital, Lincoln Developmental Center, and Head Start. She was an accomplished family historian, authoring 4 books on her family history. She enjoyed painting China. Phyllis was a member of the Order of the Eastern Star #436 in Pawnee and a member of the Eagles Lodge #2708 in Lincoln.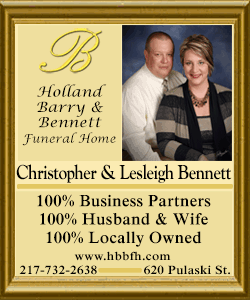 Survivors include: her sons Ronald Dean (Mitzi) Rohlfs, Steven Ike (Amanda) Rohlfs, and Daniel Lee Rohlfs, stepson "Hap" Bryson, three grandchildren, several great grandchildren, brother Ronald Vaughn, and sister Diana Mullins.

She was preceded in death by her parents, husband "Bill" Bryson, her son Richard "Dickie" Rohlfs, 2 brothers, and 6 sisters.

Memorial donations may be made to the Logan County Genealogical and Historical Society or to the Lake Fork Community Center and will be accepted at the funeral home.

Click here to send a note of condolence to the family of Phyllis Mae Bryson