Visitation: Sunday, November 19, 2023 from 2 p.m. to 4 p.m. at Fricke-Calvert-Schrader Funeral Home in Lincoln
Service: 10 a.m. on Monday, November 20, 2023, at the funeral home
Funeral home: Fricke-Calvert-Schrader, Lincoln
Obituary
Ruby M. Swinford, 80, of Hartsburg, passed away on Thursday, November 16, 2023.

Ruby was born April 20, 1943, in Middletown, the daughter of Lewis M. and Kathryn (Banister) Voyles. She married Harold Swinford on October 10, 1970. He preceded her in death in December of 2007.

Ruby is survived by her daughters, Angie (Rick) Doolin, Lisa (Bob) Gaston, and Amanda (Mark) Stoltzenburg; one son, Steve (Jennifer) Swinford; grandchildren, Dylan (Danelle) Swinford, Austin Doolin, Lane (Paige) Gaston, Jaylee (Quentin) Swinford, Brooklyn Swinford, Robbie (Karrah) Gaston, Mckinlee Stoltzenburg, Peyton Swinford, and Luci Stoltzenburg; great-grandchildren, Oaklyn Gaston, Holland Merreighn, Riggsly Gaston, Bryer Gaston, Layla Gaston, Cloee O'Donoghue, and Clayton O'Donoghue.

She was preceded in death by her parents; husband, Harold; and siblings, Merle "Abe" Voyles and Vivian Harris.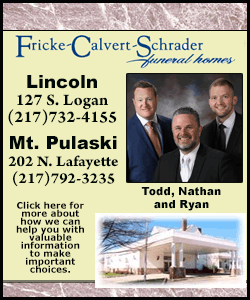 Those who knew Ruby would call her a collector of unique items and everything in between. She enjoyed arts & crafts, especially taking time out of her day to paint. At Myers Industry she was a carpenter and loved being able to have a profession where she could work with her hands. She later worked and loved spending time with people in the Garden Center at Wal-Mart in Lincoln. She had a work ethic and persona that was inviting to all who came in to see her. Above all else, Ruby loved her family; her kids and grandkids meant everything to her.

Services for Ruby will be held at 10 a.m. on Monday, November 20, 2023, at Fricke-Calvert-Schrader Funeral Home in Lincoln. Visitation will take place Sunday, November 19, 2023 from 2:00 pm - 4:00 pm at the funeral home. Burial will follow the service on Monday at Bethel Cemetery in Emden.

Memorials may be made in Ruby's name to the Hartsburg Fire Department.
Click here to send a note of condolence to the family of Ruby M. Swinford